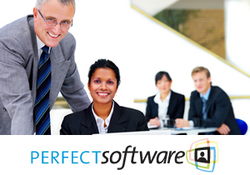 I needed the ability to become more accurate and efficient, and ADP was unwilling to customize to our needs.
Norwalk, CT (PRWEB) February 2, 2011
PerfectSoftware, a leading provider of comprehensive, integrated and flexible human resource and payroll solutions announced today that Storyteller Theatres, Mesa Industries, and ReadyStart have all selected PerfectSoftware's Human Capital Management Suite software for their HRMS and payroll needs.
Storyteller Theatres, Inc.
Storyteller Theatres is based in Santa Fe, New Mexico and operates 10 theatres featuring 69 screens throughout New Mexico, Colorado, Arizona, and Wyoming. The company's theatres are located in secondary and tertiary markets where the current population is under 100,000 but rapidly growing.
When Storyteller Theatres began its search for software to meet their needs, PerfectSoftware was a natural first choice according to Vice President and General Manager Tom Becker. "We had used products from PerfectSoftware while we were part of TransLux, so we were familiar with the company. One reason we purchased Perfect HCM was based on PerfectSoftware's reputation. We know the company has staying power and will be around for a long time. The most important reason we chose Perfect HCM, though, was that PerfectSoftware was able to tailor a package to meet our exact needs."
Becker went on to say that the Perfect HCM software allows managers at Storyteller Theatres to "access certain aspects of the system that they need without going to an administrator, which cuts down on the time spent going from person to person to get a piece of information. A manager can access what they need on their own. Our theatres are open seven days a week and the new Perfect HCM system allows managers to access information when they need it without having to wait for a regular Monday to Friday schedule."
Mesa Industries
Founded in 1990, Mesa Industries focuses on the consistent production of high-quality colorant and additive packages to meet their customer's end-use requirements. With plants in Arizona and Arkansas, Mesa Industries offers quick turnaround times that can efficiently supply their customers wherever they are located.
With the company seeing continued growth and expansion into three states, Human Resources Manager Kim Floyd noted that their old system of using Excel to track HRMS information and using ADP for payroll was not working. "I needed the ability to become more accurate and efficient, and ADP was unwilling to customize to our needs."
For Floyd, it was the flexibility offered by PerfectSoftware's Perfect HCM that made her final decision. "The flexibility of being able to choose which module we needed versus having to purchase 'whole' programs that were more than we needed was very important." Floyd is impressed with what the software has to offer for Mesa Industries saying, "Since this is the first HRMS that we have had, there are several benefits. Employee Self-Service is going to save HR time and also help the employees become more engaged in their piece of the company."
ReadyStart
ReadyStart is a non-profit organization that invests its resources to ensure that all children who reside in Collin, Denton, and Wise Counties in Texas are prepared to start school fully ready to learn. It focuses its efforts on the first five years of life because they are critically important to a child's success in school and later life.
Becky Hannah, Administrative Assistant at ReadyStart, notes that the company did not have an HRMS system in place before purchasing Human Capital Management Software from PerfectSoftware. "Everything [we had] was on paper. When something needed to be changed we had to track down everyone, and make sure everyone involved in the process knew about the changes. We were looking for consistency, and we knew we needed to have everything in one place."
ReadyStart researched several software companies before deciding to go with Perfect HCM. "We Googled providers and had Webinars with several [of them]," said Hannah. "We took all the information and costs into consideration. Being a non-profit organization, our bottom-line was the price -- we had to find something within an approved budget that would satisfy our needs. Perfect HCM was the best option for us. We also liked the reporting capability that PerfectSoftware offered."
Hannah sees many benefits to come with Perfect HCM. "Having the HRMS in place will allow everyone to have access to updates at the same time. This system will also cut down on human errors and make changes and updates smoother across the agency."
About PERFECT Human Capital Management (HCM) Suite and PerfectSoftware
PerfectSoftware's HCM Suite allows businesses and organizations to manage a broad range of human resource functions more effectively and efficiently, within a single system. Delivered as Software-as-a-Service (SaaS), the suite is highly configurable, modular, and spans the entire employee life-cycle including Applicant Tracking, Human Resource Management System (HRMS), Payroll, Performance Management, Time & Attendance, Benefit Election & Enrollment, Salary Planning and Administration, Position Control, Employee Self-Service, COBRA Management, Alerts and Ad Hoc Reporting.
It also includes single sign-on access, intuitive user interface and workflows, robust reporting and analytics, and SAS 70 Type II certified data storage. But the best thing about Perfect HCM is that it's completely customizable for your company's needs. No more buying products you don't need and will never use.
For more than 25 years, PerfectSoftware has been a leading provider of human resource and payroll solutions for managing a company's most valuable asset — human capital. For more information on PerfectSoftware and Perfect HCM, visit the company's website at http://www.perfectsoftware.com.
# # #