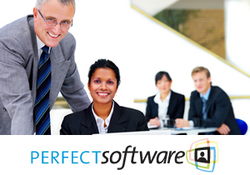 I'm excited to join PerfectSoftware at such a dynamic time in the company's impressive history.
Norwalk, CT (PRWEB) July 25, 2009
PerfectSoftware today announced the appointment of seasoned business executive Richard Allaway to its senior management team.
Allaway will be responsible for the company's sales, marketing and client service operations, and will provide strategic direction to these key departments.
Michael Gabriele, CEO of PerfectSoftware stated that "Rich brings significant experience in the Human Capital market and will help guide the company as we look to embark on our next growth segment. We are very fortunate to have Rich join us at this point in our history. His industry experience will be a great asset to PerfectSoftware."
Prior to joining PerfectSoftware, Allaway served as Vice President of Client Services at StructuredWeb, a venture capital backed, marketing software and services company. There he led service delivery and operations, supporting key relationships with companies including Konica Minolta and Cisco. Prior to that role, Allaway spent seven years at Automatic Data Processing (NYSE: ADP) in various leadership positions within the Information Technology and Marketing groups. In his most recent role there, Allaway was Vice President of Business Development, managing strategic growth initiatives, partnerships and acquisitions for the largest division ($2.4B) of ADP Employer Services. His past experience also includes serving as a principal at an Internet software company in the real estate industry.
Allaway received his BA from the College of William and Mary and MBA from Columbia Business School.
"I'm excited to join PerfectSoftware at such a dynamic time in the company's impressive history." Allaway said. "I look forward to building on the Company's strong reputation for delivering high-quality, high value, human capital solutions to its clients."
About PerfectSoftware
PerfectSoftware is a leading provider of comprehensive and flexible software to manage a company's most valuable asset - human capital. Delivered as a software-as-a-service (SaaS) or on premise solution, its software allows companies to make informed decisions about their business based on real-time information. The Company's software solutions span the entire employee lifecycle and include Human Resource Information System (HRIS), Applicant Tracking, Payroll, Performance Management, Time & Attendance, Benefit Election & Enrollment, Salary Planning & Administration, Position Control, Alerts, Employee Self Service, COBRA Management and Ad Hoc Reporting.
PerfectSoftware is recognized for its commitment to delivering personalized service and software designed to maximize efficiency and ease of use.
For more information on PerfectSoftware's products and services, please visit http://www.perfectsoftware.com.
# # #