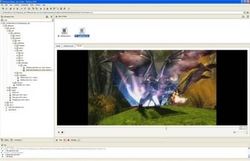 The SCM needs of the engineering department vary greatly from those required by the marketing and legal departments for example
Alameda, CA (Vocus) July 17, 2009
- Perforce Software announced the availability of release 2009.1 of its Software Configuration Management (SCM) system. The latest version features support for previewing web pages and multimedia files as well as the ability to customize the cross-platform interface to individual requirements.
With this release, web developers and artists can immediately preview changes to web, video, and audio content from within Perforce's cross-platform graphical interface, the Perforce Visual Client. A preview tab in the Perforce Visual Client automatically displays the version of the content selected by the user. See attached image.
"This advancement rounds out our visualization capabilities and gets us another step closer to bringing the full power of configuration management to everyone," said Nigel Chanter, chief operating officer of Perforce Software.
Customizing Perforce Functionality for Specific Departments and Users:
Administrators can now customize Perforce's menu options for specific departments or users (for example, artists, developers, testers, and administrators).
"The SCM needs of the engineering department vary greatly from those required by the marketing and legal departments for example," explained Chanter. "Through system customization we can optimize usability and offer the appropriate level of features and functions to each discipline or department throughout the enterprise."
Availability & Pricing:
Perforce 2009.1 is available now. Interested developers are invited to download and evaluate Perforce free from the Perforce website. This offer includes free technical support during evaluation.
Perforce pricing is all-inclusive; there are no add-on components that require licensing. End-user licenses for the complete solution, including one year of support and maintenance, start at $900 per seat; volume discounts are available. For additional price and license information, visit http://www.perforce.com.
About the Perforce SCM System:
Perforce, the Fast Software Configuration Management System, is an award-winning tool that versions and manages source code and digital assets for enterprises large and small. Perforce is easy to install, learn and administer; seamlessly handles distributed development; and supports developers across a large number of platforms. Perforce ensures development integrity by grouping multi-file updates into atomic changes, enables concurrent development, and intelligently manages multiple software releases using its Inter-File Branching system.
About Perforce Software:
Founded in 1995, Perforce Software Inc. develops, markets and supports Perforce, the Fast Software Configuration Management System. Perforce Software is headquartered in Alameda, Calif., and sells worldwide. The company has international operations in Europe, Japan and Australia. In addition to application software companies, Perforce customers represent a broad range of industries including game development, electronics, pharmaceutical and financial services.
Media Contact:
Sheri Aguirre
Perforce Software
+1-503-673-0213
###