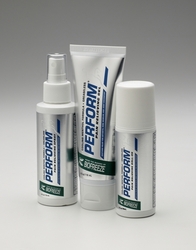 Whether it's sore muscles or aching joints, runners certainly experience a wide range of pain-related issues so this partnership allows us to offer our participants a product that's useful in their daily life
Akron, OH (Vocus) November 9, 2010
Competitor Group (CGI), the leader in endurance sports media and event entertainment, and Hygenic/Performance Health, makers of Biofreeze® and Perform® Pain Relievers and Thera-Band® Progressive Resistance products, today announced that Perform Pain Reliever will be the official external analgesic for the 2010-2011 Rock 'n' Roll Marathon Series.
The agreement provides Perform products access to thousands of Rock 'n' Roll participants at each of the 17 events across the country. Perform Pain Relieving Gel samples will be offered at the Health & Fitness Expo booth, and samples will also be placed in goodie bags given to each and every participant.
Perform Pain Reliever is a cold therapy external analgesic available in gel, spray or roll-on applications. It's designed to target everyday aches and pains as well as chronic pain. Perform products provide the benefit of cold therapy without the hassles and possible side effects of the most commonly used solution: ice. By relieving short-term pain, Perform products can help the body to move more freely, which then promotes faster long-term healing and recovery.
"Whether it's sore muscles or aching joints, runners certainly experience a wide range of pain-related issues so this partnership allows us to offer our participants a product that's useful in their daily life," said Scott Dickey, President of the Competitor Group. "There's certainly a natural tie-in and we're excited to partner with Perform."
The Rock 'n' Roll Marathon Series is famous for lining race routes with live bands and cheerleaders, massive participant numbers and rocking post race concerts. Today, the series of marathons and half-marathons has spread to 17 cities nationwide, including Chicago, Las Vegas, Philadelphia and Los Angeles.
"Our client base is largely the so-called 'weekend warrior', someone who is extremely active in their free time," said Scott Matolka, Director of Marketing for Hygenic's Consumer Retail Marketing group. "Working with the Rock 'n' Roll Series really gives us the ability to communicate directly with those active, high energy people who are likely to need and appreciate what Perform products offer."
About The Competitor Group
Competitor Group, Inc., headquartered in San Diego, CA, is the leading endurance media and event entertainment company dedicated to promoting the sports of running, cycling and triathlon. CGI owns and operates 36 national events delivering more than 350,000 professional and amateur participants in 2010. CGI publishes four magazine titles with a combined monthly circulation of over 800,000 and has recently launched an online endurance community at competitor.com delivering over 1.5 million monthly unique visitors and over 25 million page views. Further information about Competitor and its media properties can be found at http://www.cgimediakit.com.
About Hygenic / Performance Health
Hygenic / Performance Health built its business by developing products that help people manage their pain, restore their strength, and improve their overall health. Maker of market-leading Perform®, Thera-Band®, and Biofreeze® products, Hygenic / Performance Health provides a broad portfolio of products for the therapy, rehabilitation, massage, wellness and consumer retail markets.
###