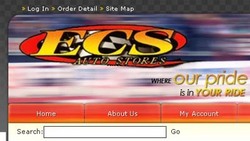 We're looking forward to drawing in fresh customers with the new site and we will be adding new manufacturers and parts very often, so we'll be encouraging those new customers to check back frequently
Middletown, NY (PRWEB) October 28, 2008
In 1967, long before business owners ever dreamed of an online marketplace, Alfred Schwab started East Coast Speed and Sport Shop out of his own home. After converting living space to office and storage space, Schwab's business took off and quickly developed a large and loyal following. In 1972, the business relocated a mile up the road to a 10,000 square foot building, and in 1982 the business was incorporated, which changed the name to ECS Auto Stores, Inc. Currently, ECS Auto Stores is in the same building, and although Schwab still runs his business from the same physical location, he has recently added a second location, and this one is virtual.
Ecsautostores.com has just launched to make it easier for Schwab's faithful customers to order their performance auto parts, but also to draw a new generation of racers, car enthusiasts and auto restorers to his company. And while the site features thousands of products ranging from engine cooling additives and spark plugs to high performance parts such as gear shifters and Edelbrock carburetors and performance crate engines, the inventory listed online still represents only a portion of what ECS Auto Stores, Inc. can sell.
The company carries more than 800 distinct product lines, has thousands of individual products in stock at any given time and can get wholesale rates on any performance auto parts that aren't in stock. Customers that can't easily locate exactly what they're looking for on ecsautostores.com or that aren't sure what they need are directed to call the offices toll free at 1-877-327-3535 to inquire and order by phone.
"We're looking forward to drawing in fresh customers with the new site and we will be adding new manufacturers and parts very often, so we'll be encouraging those new customers to check back frequently," says Schwab.
Since getting its start more than 40 years ago, ECS Auto Stores, Inc. has established competitive pricing and great service as its primary competitive advantages. The company still offers lowest-in-the-industry rates on consumables like synthetic motor oils and spark plugs, as well as on major high performance parts for car enthusiasts, dirt track racers, street rodders and drag racers.
"ECS Auto Stores maintains an exceptionally large inventory, so we always urge our customers to call our toll free number for full catalog listings or to ask about parts not listed on the site," explains Schwab.
To see the low prices and vast selection of performance auto parts offered online by ECS Auto Stores, Inc., request a catalog, or sign up for e-mail updates, please visit ecsautostores.com.
About ECS Auto Stores, Inc.:
Since 1967, ECS Auto Stores, Inc. has been providing its customers with exceptional value in the automotive aftermarket industry. The company boasts more than 800 unique product lines and thousands of products from Royal Purple and Redline synthetic motor oils to Holley and Edelbrock carburetors and Edelbrock performance crate engines. ECS Auto Stores, Inc. and its vastly experienced and knowledgeable specialists are taking product orders online at ecsautostores.com and via toll free phone at 1-877-327-3535.
# # #