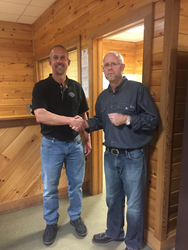 George identified the perfect and unique buyer for my dealership, and worked diligently to bring the transaction to a quick and successful closing. - George Chaconas
Irvine, California (PRWEB) November 25, 2015
Performance Brokerage Services announces the sale of Cox's Northern Tier Harley-Davidson dealership in Mansfield, Pennsylvania to Mr. Pete Eisenhauer, first-time Harley-Davidson dealership owner and local Nissan dealer.
In 1961, the Cox family established the first Cox's Harley-Davidson in Asheboro, North Carolina. Since then and for over 50 years, three generations of Cox family members have owned and operated the dealerships. In 2004, the family opened the Harley-Davidson dealership in Rock Hill, South Carolina and in 2006, they further expanded their footprint when they opened Cox's Northern Tier Harley-Davidson in Mansfield, Pennsylvania. After 9 years of ownership, the Cox family wanted to focus their attention on their other dealerships. The Cox family knew of George C. Chaconas from Performance Brokerage Services, a national Harley-Davidson, powersports and new car dealership broker, because they had spoken in the past regarding another Harley-Davidson dealership that he had for sale near their Carolina footprint. So Robbie Cox contacted George for a complimentary evaluation and to assist him with the sale of his family's business. Robbie commented, "George is very trustworthy, reliable and professional. Rather quickly, George identified the perfect and unique buyer for my dealership, and worked diligently to bring the transaction to a quick and successful closing."
Pete Eisenhauer owns Eisenhauer Nissan of Wernersville, Pennsylvania, which has been in the family for almost 60 years. At 18-years-old, Pete began selling cars at his family's dealership. He was promoted to the manager at 21 years of age and became the dealer operator before he was 30. With a great focus on customer satisfaction, the development of a strong and loyal employee base and by maintaining an excellent reputation in the community, Pete has continued to grow the Nissan business. As a 20-year Harley-Davidson rider and enthusiast, it was always a dream for Pete to one day own his own Harley-Davidson dealership. "This was a perfect opportunity to realize a lifelong dream of becoming a Harley-Davidson dealer," commented Pete. "My wife and I have been enthusiasts for over 20 years…and George Chaconas introduced me to a Harley-Davidson dealership for sale near my family's second home," he continues. Commenting about the quality of service Pete received from George, he states "George was very educational and knowledgeable, and proved himself to be an industry expert. He assisted in facilitating the transaction from Letter of Intent to closing. I would highly recommend Performance Brokerage Services to anyone looking to buy or sell a Harley-Davidson dealership."
Cox's Northern Tier Harley-Davidson will operate under its new name Eisenhauer's Tioga County Harley-Davidson and will remain at its current location at 2911 South Main Street in Mansfield, Pennsylvania 16933.
George C. Chaconas, the exclusive agent for this transaction and the head of the National Harley-Davidson and Powersports Division for Performance Brokerage Services commented, "Nothing brings me greater satisfaction as a Harley-Davidson dealership broker than accomplishing my client's goals and successfully representing their best interests, while simultaneously finding the perfect buyer and assisting him with bringing a lifelong goal to fruition. A true win-win."
About Performance Brokerage Services
Performance Brokerage Services, an auto dealership broker, specializes in professional intermediary services to buyers and sellers of automotive, Harley-Davidson and Powersports dealerships.
The company offers a different approach to the automotive, Harley-Davidson and Powersports industries by providing complimentary dealership assessments, no upfront fees, no reimbursement of costs and is paid a success fee only. Performance Brokerage Services gets paid only after the client gets paid.
With over 24 years of experience, the company utilizes an extensive network of industry related accountants, attorneys, hundreds of registered buyers and enjoys longstanding relationships with most of the auto manufacturers and the Harley-Davidson Motor Company. The intermediaries at Performance Brokerage Services have been involved in well over 400 transactions. Pledging loyal and unwavering representation, confidentiality is vigilantly protected during the selling process and after the transaction closes.
With corporate offices in Irvine, California located at 7545 Irvine Center Drive, four satellite offices in Utah, Florida, Texas and New Jersey, and a dedicated Harley-Davidson and Powersports Division, Performance Brokerage Services provides its clients national exposure with local representation. For more information about the services offered by Performance Brokerage Services, visit http://performancebrokerageservices.com.