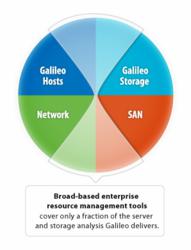 Through our consulting experience, we realized that no single tool can satisfy every need...
Malvern, PA (PRWEB) November 20, 2012
Galileo Performance Explorer™, a cloud-based performance monitoring tool created by the ATS Group, has expanded its range of metrics and charts for more detailed server and storage performance analysis. In all, Galileo is now tracking more than 250 metrics through more than 190 charts—including host charts, frame charts, virtual group charts, and SVC/7000 activity charts.
Galileo provides a natural complement to broad-based enterprise resource management tools. While the broad-based tools monitor basic aspects of performance across multiple IT infrastructure categories, and trigger alarms when capacity thresholds are exceeded, Galileo enhances those capabilities with more comprehensive coverage exclusively for server and storage activity.
"Through our consulting experience, we realized that no single tool can satisfy every need," says Tim Conley, co-founder and principal partner for the ATS Group, "so we concentrated on making Galileo the most thorough tool with deeper analytical capabilities for proactive system management."
As a cloud-based subscription service, Galileo provides universal access from any browser window to help IT professionals optimize capacity planning and IT budgeting, and prevent disruptions due to system overload, through:

Deeper perspective. Hundreds of charts and metrics cover key areas of performance.
Graphic simplicity. Colorful graphs make it easy to identify problem areas quickly.
Custom insight. Personalized dashboards keep critical metrics readily in sight.
Pinpoint precision. Data recorded in real time is permanently charted in 5-minute increments for precise historical analysis by hosts, groupings, or individual units.
Cost-efficiency. Galileo minimizes underutilized hardware and unnecessary purchases.
About Galileo Performance Explorer
Created and supported by ATS Group, Galileo Performance Explorer™ improves IT utilization and capacity planning with convenient cloud-based performance monitoring. Galileo delivers 100+ analytical perspectives of server and storage hardware and virtualization environments for key decision makers. Galileo ensures optimal performance of physical and virtual servers and storage, supporting IBM® AIX®, Linux®, Windows®, and IBM® SVC and Storwize® V7000 storage. Built on an innovative SaaS architecture, Galileo installs in minutes without onsite data or expensive hardware requirements. Automatic collection of real-time data and quick, easy, graphical reporting via an intuitive web interface offers access to custom dashboards with full drilldown into data details, anywhere, anytime. Galileo empowers users from IT administrators to C-level management at mid-size to Fortune 100 companies including leaders in security-sensitive industries.
For a free demo account using YOUR own data, visit http://www.GalileoSuite.com.