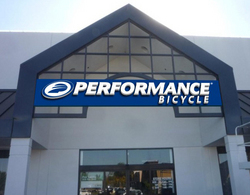 We can help more families and individuals embrace the benefits and fun of cycling in Woodland Hills and everywhere.
Chapel Hill, NC (Vocus) March 19, 2010 —-
Performance Bicycle, the nation's number one specialty bike retailer, today announced that it will open a new retail location in Woodland Hills on May 7, 2010.
The new store, located at 6400 Owensmouth Avenue, will join Performance's 86 locations nationwide. Based on a new design that aims to make cycling retail more fun and user-friendly, the new Performance location will be a welcome resource and guide for both avid riders and those who haven't been on a bike since they were a kid. The store will offer a full assortment of bicycles—Road, Mountain, Path & Pavement, Women's and Kids—as well as the latest in cycling apparel and gear.
"Our mission is to demystify cycling," said Jim Thompson, chief executive officer of Performance, Inc. "We want to see more people in Woodland Hills make cycling an everyday part of their lives. That's why we are working hard to make Performance Bicycle the premier retail destination for avid cyclists, aspiring riders, and everyone who loves bikes as much as we do. If we can deliver a fun and friendly environment in the store, we can help more families and individuals embrace the benefits and fun of cycling in communities everywhere."
The Woodland Hills store also will feature an all-new Spin Doctor™ service area that offers free bike fitting with every bike purchase as well as repair and customization services for all cyclists. Spin Doctor departments are staffed by experienced 'Spin Doctor Certified' mechanics who can service and repair all brands of bikes and offer advice on everything from bikes and gear to the best places to ride.
Every item Performance sells is backed by a 100 percent Satisfaction Guarantee, a Low Price Promise, and Free Lifetime adjustments for any bike purchased. Kids' bikes come with Free Custom Size and Safety Fitting and Performance's own Growth Guarantee that offers discounts on new bikes when kids have outgrown their old ones. Guests can also join the Team Performance® Buyer's Club, cycling's number one buyer's club, to get ten percent back on every purchase, free second-day shipping upgrades, and other exclusive offers.
Thompson adds, "We are focused on providing the best possible experience for anyone who wants to buy a bike. We will do that through the new look and feel of our stores, our award winning - top 100 web site, free catalog, a broad assortment of cycling gear, incredible value, and the expertise of the cyclists who make up the outstanding Performance team."
Where to Find Performance
Performance offers three great ways to shop: by store, by catalog and online at PerformanceBike.com. Guests can always check the Deal of the Day on the Performance Web site or by following Performance on Twitter, @performance_inc.
About Performance Bicycle
Performance Bicycle is the number one bike specialty retailer in the U.S. and is a wholly owned subsidiary of Performance Inc. Performance provides a multi-channel cycling retail experience that spans catalogs, a website at http://www.performancebike.com and 86 nationwide stores that cater to both the avid biking enthusiast and the recreational rider. Performance Inc. is majority owned by North Castle Partners of Greenwich, Connecticut. For more information about Performance Bicycle, please visit http://www.performancebike.com.
Contact:
Brian Posnanski, 314-968-7782
###