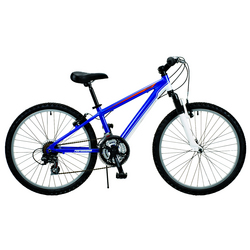 We put the same care and craftsmanship into the development and assembly of our new kids bikes as we put into a $5,000 road bike.
Chapel Hill, NC (Vocus) July 13, 2010
Performance Bicycle®, the nation's number one specialty bike retailer, has announced that it is introducing its own line of kids bicycles.
The Performance Bicycle® line of kids bikes includes fun, stylish and durable models built for boys and girls ages 3 and up. The new line covers everything from tricycles and balance bikes to 24" kid's mountain bikes and every size in between. All of them are sold with the Performance Bicycle® Kids Bike Growth Guarantee, the trade-in program that gives families discounts on new bikes when children have outgrown their old one. Parents also can have bikes delivered to their door, fully assembled, through the Performance Kids Bike in a Box offering.
Performance is dedicated to giving moms and dads everything they need to find the right bike for their sons or daughters. A complete kids bike sizing chart and a fun, fitness and safety coloring book are available for download at PerformanceBike.com.
"We have two goals in offering our own line of kids bikes: to create cool bikes that kids will have a lot of fun riding, and to give parents tremendous value and the peace of mind that comes from knowing their child's bike is properly built and of the highest quality," said Jim Thompson, chief executive officer of Performance Inc. "We put the same care and craftsmanship into the development and assembly of our new kids bikes as we put into a $5,000 road bike."
Bikes to Grow On
Each Performance Bicycle® kids model corresponds to different ages and sizes. The complete lineup includes:
Boys Holeshot / Girls Raven – The 24" geared bicycle is the ideal build for children ages 7 and over or 56-62" tall. It has a durable frame with front suspension, 21-speed twist shifters, aggressive wheels with traction-hungry tires, and linear-pull brakes to keep things under control.
Boys Burnout / Girls Starling – At 20", this geared model offers seven speeds for kids 4-8 years or 44-56" tall. Its sturdy aluminum frame provides the durability for both neighborhood exploration and mountain biking.
Boys Downforce / Girls Piper – A 20" coaster model for speedsters between 4-8 years or 44-56" tall. It has double the stopping power thanks to rear linear-pull calipers, as well as coaster breaks that offer the opportunity to transition easily into an adult bike.
Boys Thrasher / Girls Sparrow – At 16", this bicycle is built for kids between 3-6 years, or 34-44" tall, who are ready to kick off the training wheels. Its Hi-Ten steel frame can take a beating, and features a daredevil design that will stand out in the neighborhood.
Boys Boost / Girls Chickadee – With fun graphics and a sturdy, Hi-ten steel frame, these 12" models provide excellent balance for beginners. Best for ages 2-4 or 26-34" tall.
Balance Bike – Learning to ride a bike can be tough, but the Balance Bike teaches children coordination and control by simply letting them sit in the saddle and push off the ground with their feet to propel themselves along. Balance bikes have proven to be a great starter for kids prior to training wheels.
Tricycle – A variety of classic designs punctuate this childhood favorite, which features a durable aluminum frame, beefy pneumatic tires, and pedals that are perfect for little feet.
Performance Growth Guarantee
The new Performance Bicycle® Kids Line is part of the company's mission to make cycling more accessible to more people. In addition to the Kids Bike Growth Guarantee, every bike sold comes with the Performance Bicycle® 100 percent satisfaction guarantee and 90-day low-price promise: any customer not completely satisfied can return their bike for a replacement or full refund; and Performance will match any advertised price on the same item within 90 days of purchase.
Performance Bicycle® offers three great ways to shop—by store, by catalog and online at
PerformanceBike.com. Follow Performance on Twitter, @performance_inc and on Facebook at
http://www.facebook.com/performancebike.
About Performance Bicycle®
Performance Bicycle® is the number one bike specialty retailer in the U.S. and is a wholly owned
subsidiary of Performance Inc. Performance provides a multi-channel cycling retail experience that spans catalogs, a website at http://www.performancebike.com and 86 nationwide stores that cater to both the avid biking enthusiast and the recreational rider. Performance Inc. is majority owned by North Castle Partners of Greenwich, Connecticut. For more information about Performance Bicycle®, please visit http://www.performancebike.com.
###