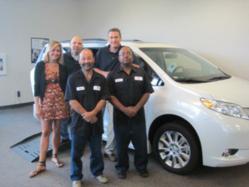 Colorado Springs, CO (PRWEB) June 28, 2012
The Braun Corporation, the leading manufacturer of wheelchair accessible vehicles and wheelchair lift systems in the mobility industry, recently recognized local dealer Performance Mobility with the Customer 1st Award. The award recipients were selected based on customer survey results over the course of 2011.
Performance Mobility has served the disability community of Colorado Springs for the past six years. The dealership team is actively involved in disability-related organizations throughout the area, including the Mountain States Chapter of Paralyzed Veterans of America, Penrose Hospital Driving Program, Post Polio Support Groups, Veterans Administration, local and national Multiple Sclerosis support groups and the ALS Foundation. Craig Hospital is also
Jim Draper has been a loyal customer of Performance Mobility for years and had recently visited to look at the newest vehicles in stock. "You can't beat Performance Mobility for service. They're a caring bunch that meets every need of their clients," he said. "There isn't one person here who hasn't bent over backwards to make sure our needs are met."
Performance Mobility offers the complete line of BraunAbility wheelchair accessible vans. Additionally, the dealership can install hand controls, transfer seating and automatic wheelchair securement systems for individuals with limited mobility. The dealership specializes in finding the right vehicle for each individual, not just promoting a one-size-fits-all solution.
"Our customers rely on their dealers to provide a sales and service experience that addresses their unique needs," says Braun President Nick Gutwein. "These dealers have gone above and beyond in meeting their customers' needs and building life-long relationships with them."
Performance Mobility is conveniently located right off of Interstate 25 in Colorado Springs. For more information, visit http://www.PerformanceMobility.com.
About Performance Mobility: Performance Mobility offers individuals with physical disabilities access to modern handicap vans, mobility equipment and innovative solutions to enhance their quality of life, and regain their freedom and independence.