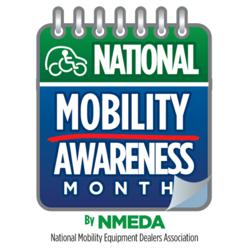 Denver, CO (PRWEB) March 20, 2012
At the 22nd Annual NMEDA Conference in Phoenix, Arizona, the National Mobility Equipment Dealers Association announced National Mobility Awareness Month, which will be celebrated throughout the US and Canada in May 2012. The goal of the awareness month is to inform seniors, veterans, caregivers and people with disabilities about options for living an active, mobile lifestyle through the use of wheelchair accessible vehicles and adaptive mobility equipment.
In celebration of the awareness month, NMEDA has also created an online contest that will award three lucky winners customized wheelchair accessible vehicles to meet their needs. In support of the awareness month, sponsors such as Toyota, SanTan Honda in Chandler, AZ and Chrysler, have rallied together to provide the vehicles, which will later be customized by NMEDA manufacturers – BraunAbility, Vantage Mobility International and Bruno Independent Living Aids.
Those eligible to win the wheelchair accessible vehicles are distinguished as Local Heroes, who will be encouraged to submit either written or videotaped stories of how they've overcome or struggled with mobility issues. Caregivers, friends and family members are also welcome to submit entries for others. Stories will be accepted from March 18, 2012 to May 13, 2012, voting will take place from April 1, 2012 to May 13, 2012 and the link to the registration page can be found on http://www.PerformanceMobility.com
About National Mobility Awareness Month:
National Mobility Awareness Month is the inaugural May celebration that encourages people with disabilities to enjoy active, mobile lifestyles. Founded in 1989 as a non-profit trade association, The National Mobility Equipment Dealers Association sponsors the awareness month with the assistance of more than 600 mobility equipment dealers, manufacturers and driver rehabilitation specialists dedicated to expanding opportunities for people with disabilities. For updates on the awareness month and local heroes overcoming mobility issues, please visit NMEDA's Facebook, Twitter or website.
About Performance Mobility: Performance Mobility provides sales, service and rental of wheelchair accessible vans, scooter and wheelchair lifts, hand controls and other adaptive driving equipment. Performance Mobility is committed to serving the community with exceptional customer service and the highest quality, safest products available for transporting individuals with limited mobility. Performance Mobility serves Colorado, Wyoming, Oregon and Washington states from locations in Denver, Colorado, Colorado Springs, Colorado and Portland, Oregon.