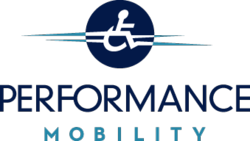 Denver, CO (PRWEB) July 31, 2012
Performance Mobility, a leading mobility vehicle and equipment dealer, has today unveiled the company's brand new website. The dealership takes their commitment to their customers very seriously, and understands those considerations go far beyond the physical world. The new website is designed to provide visitors with better access to the information they need about today's wheelchair vans, mobility equipment and much more.
Visitors will find that the new menu layout and design offers immediate access to the areas that are most pertinent to them, and the bold dropdown menu below each category features large, easy-to-see icons for better visibility and easier navigation. From new and used wheelchair vans, special inventory, financing, rental information, details about mobility equipment and a variety of contact methods, website visitors are granted a layout designed specifically for functionality.
Website visitors will also find that Performance Mobility has increased the visibility of their social media efforts. Performance Mobility also maintains an active, informative blog where customers and individuals with physical disabilities can find valuable information. They are also active on Facebook and Twitter.
The company has also implemented a scroll bar where customers can access highly informational videos that highlight how today's hottest wheelchair vans and mobility equipment works without having to leave home. Visitors can also find information about services offered, sign up for the company's newsletter and find exclusive deals, as well.
The new website is bold, bright and well organized. Designed to provide individuals with physical disabilities with the simplest, most straightforward process possible, Performance Mobility has taken their website to an entirely new level.
To see the new Performance Mobility website, or shop for wheelchair vans or modern mobility equipment, visit http://www.PerformanceMobility.com.
About Performance Mobility: Performance Mobility offers individuals with physical disabilities access to modern handicap vans, mobility equipment and innovative solutions to enhance their quality of life, and regain their freedom and independence.