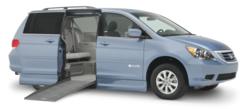 Denver, Colorado (Vocus/PRWEB) April 19, 2011
Performance Mobility is honoring disabled veterans with its "Veterans Program." The company assures disabled motorists that their teams of consultants and technicians have seen many types of disabilities, and that there is a customized solution for every individual.
The company states that the wheelchair vans industry is certainly not a "one size fits all industry" and that the best vans must be custom-fitted to a driver's lifestyle and unique needs. Performance Mobility is now offering financial assistance through the Veterans Health Administration program, as well as helping with the "navigation process", serving as a liaison between the veteran motorist and the various entities involved. In the past, the company has had to work with therapists, driving instructors, physicians, case managers and various government officials in order to get a vehicle authorized and funded.
The company proudly offers assistance to disabled motorists whether they are service connected or non-service connected, and whether they are completely disabled or only partially disabled. Performance Mobility offers handicap vans, handicap minivans, wheelchair lifts, and numerous other accessories and conversions. They also sell conversions from top manufacturers like VMI and Braun. Some of the company's newest acquisitions include 2010 Honda Odysseys and 2011 Toyota Siennas with full conversions.
Performance Mobility's mission is to help disabled individuals regain their freedom and independence, and none are more deserving than self-sacrificing patriots who fought for freedom. The company not only offers assistance with VHA, but also with numerous financing arrangements. Performance Mobility's customer-first approach was recently recognized by the Braun Corporation, when it won a Customer 1st Award for 2010.
The "Veteran's Program" by Performance Mobility is yet another example of the company's customer-first objectives. For more information on wheelchair vans and wheelchair lifts, visit http://www.PerformanceMobility.com/.
About Performance Mobility: Between its lead founders, Performance Mobility has over 50 years of combined experience helping disabled individuals. The company has three locations in addition to its main Denver office; in Colorado Springs and in Portland, Oregon. All of the company's policies and wheelchair vehicles meet the high standards of the Quality Assurance Process.
# # #