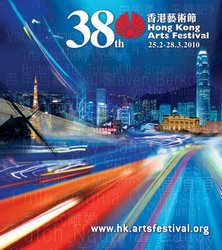 This is an upbeat festival, with many productions informed by a sense of possibility based on strong personal conviction.
Hong Kong (PRWEB) October 14, 2009
Today the Hong Kong Arts Festival announced details of the forthcoming 38th Hong Kong Arts Festival 2010. In 37 different venues within a period of 32 days - from 25 February through to 28 March 2010 - the Arts Festival will present over 100 performing arts and theater shows that feature 41 performing groups* - 29 from overseas and 12 from Hong Kong. A range of exceptional artists from around the world will participate in the Arts Festival, including 786 overseas performers and 500 local performers and supporting staff.
The Hong Kong Arts Festival Chairman Mr Charles Lee said, "The Festival's wide range of excellent programmes compliments Hong Kong's international status, enhances the quality of life for residents and attracts visitors. Also, the Hong Kong Arts Festival continues to explore different types of performance venues, presenting performances in unconventional spaces, to enhance the audiences' experience."
Once again, the Hong Kong Arts Festival presents groundbreaking works and expands the horizons of Hong Kong artists and audiences with performing arts and theater shows that are visionary, multi-disciplined and original. Much more than an annual cultural feast for Hong Kong, the Arts Festival is a meeting place for creative minds, a showcase of the best international and local talent and a platform for innovative new works. The 2010 programme surpasses the hallmark of excellence for which the Arts Festival is known.
"From the driving rhythms of Paganini at the IFC to the elegiac strains of naamyam in the tranquil Nan Lian Garden; listening to Chopin or Samson Young's electronic game music at former industrial sites in Quarry Bay and Kwun Tong; and with world music diva Sa Dingding at Star Hall in Kowloon Bay, this Festival is reflective of Hong Kong in its diversity and energy," said the Hong Kong Arts Festival Executive Director Ms Tisa Ho. "This is an upbeat festival, with many productions informed by a sense of possibility based on strong personal conviction."
Cultural Heritage
Opening the 38th Hong Kong Arts Festival is Cantonese Opera Treasures, three evenings of rarely performed Set Pieces and seminal classics featuring more than 150 Cantonese opera performers from the Chinese Artists Association of Hong Kong. This local art form is one of the latest additions to the UNESCO list of intangible cultural heritage. Another Cantonese vernacular art naamyam will also be celebrated at this Arts Festival. Three leading female naamyam singers from three different generations and cities - Hong Kong, Macau and Guangzhou - will come together for two concerts to capture the sound of this rapidly disappearing regional narrative singing. Meanwhile, China's leading kun opera troupe, Suzhou Kun Opera Theater of Jiangsu Province, performs Professor Pai Hsien-yung's latest production The Story of Jade Hairpin, along with the rarely staged classic The Hairpin and the Bracelet and an important collection of excerpts by literary giant Tang Xianzu.
For the first time, the Hong Kong Arts Festival presents the total capacity of a legendary company, St Petersburg's Mariinsky Theatre (formerly known as the Kirov). Artistic Director Valery Gergiev will lead the combined forces of the Mariinsky Orchestra, Opera and Ballet]. The Mariinsky Opera brings their critically acclaimed and award-winning new production of Britten's The Turn of the Screw, which Gergiev will conduct. The Mariinsky Ballet shows off its fabulous dancers in Pepita's joyous classic Don Quixote. Gergiev will also direct the Mariinsky Orchestra in two concerts of dramatic music by Tchaikovsky and Wagner, and symphonic works by Russian masters Shostakovich and Prokofiev which will be the grand Festival Finale.
Powerful Music:
This year, the Hong Kong Arts Festival presents six orchestras. Three visiting orchestras will be led by celebrated conductors. In addition to the ferociously energetic Gergiev conducting the Mariinsky Orchestra, Christoph von Dohnányi heads the Philharmonia Orchestra's eagerly anticipated return to Hong Kong with refined interpretations of Austrian and German masterworks. The innovative René Jacobs appears with the Freiburg Baroque Orchestra for two enlightening performances of classical masterpieces by Mozart and Haydn. Hong Kong's own Philharmonic Orchestra, Chinese Orchestra and Sinfonietta will continue to contribute to the Festival, with the city's trio of music directors, de Waart, Yang and Yip, at the helm.
In addition to the orchestral fare, a wide-ranging repertoire of chamber music is on offer, bringing together emerging stars and established luminaries. René Jacob's former student, acclaimed countertenor Andreas Scholl partners with lutenist Edin Karamazov to perform a feast of 16th and 17th century songs by John Dowland and contemporaries. The World Harmonica Champion from Hong Kong, King's Harmonica Quintet, creates a musical journey from Western China to South America. Recitals by pianists Mark Latimer and Mikhail Rudy promise to be exhilarating piano experiences and displays of superhuman virtuosity. Latimer will play Alkan's Concerto for Solo Piano and Chopin's Allegro de Concert on the composer's 200th birthday, whereas Russian-born Rudy will play an all-Russian programme of Mussorgsky, Scriabin and Stravinsky. Rudy will also team up with actor Peter Guinness in The Pianist - a boundary-crossing fusion of words and live music based on Polish pianist WBadysBaw Spzilman's harrowing wartime memoir which is best known from the Oscar-winning film.
The Credit Suisse Emerging Artists Series of the Hong Kong Arts Festival draws together some of the hottest new talent on the international scene: historical keyboard specialist Sebastian Wienand joins the Freiburg Baroque Orchestra on fortepiano; soprano Simone Osborne, one of the youngest Grand Winners of the Metropolitan Opera National Council Auditions, brings her sweet crystalline voice to lieder by Schumann and Richard Strauss; and Finnish string quartet Meta4 brings their dynamic and authoritative interpretation of music by compatriots Sibelius and Verneri Pohjola.
The Hong Kong Arts Festival's ExxonMobil Vision series continues to nurture exciting local artists: composer Samson Young turns old-school video games into a multi-sensory chamber concert experience, while young pianist Wong Chi-yan explores the spirituality of Liszt and Messiaen's piano works.
An outstanding line-up of jazz and world music is in store. Passion and sensuality unites the diverse sounds of these artists: the tango orchestra Café de los Maestros formed by giants from tango's golden age; The Guy Barker Jazz Orchestra's Mozart-inspired The Amadeus Project; plus the highly original and energetic David Murray Black Saint Quartet. Strong women also guide these eclectic musical visions: China's world music diva and winner of the 2008 BBC World Music Award, Sa Dingding; Spain's coolest rumba-funk-hip-hop-electro-flamenco outfit Ojos de Brujo; and four exceptional female singers - Patti Austin, Dianne Reeves, Simone and Lizz Wright - join hands to pay tribute to the extraordinary Nina Simone.
Modern Classics and New Works:
We find both modern classics and new works on the stage of the 2010 Arts Festival. Gathering the best and most innovative theater-makers from Europe, America and Asia Pacific, as well as those from Hong Kong, these productions reach for dreams and ideals to create a better world.
In the ensemble of theater shows, Oscar-winning British film director Sam Mendes returns to the stage with Shakespeare's The Tempest, starring the finest talents of New York and London theater; Chinese theater innovator Lin Zhaohua dramatises short stories by China's leading playwright Lao She, a special world premiere at the Hong Kong Arts Festival to celebrate the 111th anniversary of Lao's birth. Another British theater legend, Steven Berkoff, returns to Hong Kong with an exclusive Asian premiere of his latest theater shows, a bold, physical adaptation of the iconic film On the Waterfront.
In addition, New Zealand's Red Leap Theatre brings Shaun Tan's award-winning picture book The Arrival to life with expert puppetry and innovative stage designs, and creates one of the most enchanting, wordless theater shows about a stranger in a strange land. Singapore's W!LD RICE brings out the humour, energy, sexiness and physicality of George Orwell's Animal Farm, whereas chelfitsch Theater Company, headed by Japan's boundary-breaking young director Toshiki Okada, poetically reveals the disenchantment and disorientation of Japanese youth.
Providing a platform for local and emerging performing arts talent is one of the Arts Festival's ongoing missions. This year, the Hong Kong Arts Festival commissioned and produced two theater shows adding to the growing body of work created by Hong Kong's talent. Conceived by Fredric Mao, The Liaisons unites the best of Hong Kong film and theater artists, from the screenwriters of Infernal Affairs, Alan Mak and Felix Chong, to Oscar-winning designer Tim Yip (Crouching Tiger, Hidden Dragon). Fredric Mao will continue to support local practitioners in the second year of the Mentorship Scheme, initiated by the Hong Kong Arts Festival last year. The Truth About Lying is an insightful new theater show by the multi-award winning young writer Wong Wing-sze. She will co-direct her play with the lead actor Lee Chun-chow. The ever-experimental Danny Yung returns to the Arts Festival with an investigation into the notion of political correctness in performing arts based on kun opera classic Flee by Night.
In dance, Dutch National Ballet brings works by their national treasure, ballet choreographer Hans van Manen. Selecting six iconic pieces from the master's repertoire of nearly 120 works, the three programmes distill the essence of Van Manen's creativity. The Asia Pacific Dance Platform, initiated and curated by the Hong Kong Arts Festival, proudly enters its second season, bringing stimulating new dance pieces by six artists from four countries and five cities, and showcasing the latest trends from the region's movers and shakers through inspiring workshops, discussions and performances.
New Venues:
To expand the scope and variety offered, and to introduce exciting, alternative performance experiences, the Hong Kong Arts Festival is holding events in venues newly made available for Festival performances: Star Hall, Hong Kong International Trade & Exhibition Centre (HITEC) in Kowloon Bay (Sa Dingding); Osage Kwun Tong gallery (Samson Young's The Third Pixel); ArtisTree, Taikoo Place in Quarry Bay (Mikhail Rudy's The Pianist); Nan Lian Garden in Diamond Hill (Naamyam - Songs of Love and Lament); and we return to the 55th floor of IFC with a solo violin recital by Li Chuanyun, featuring selections from Paganini's 24 Caprices.
New Dimensions:
We continue to expand the scope of the Arts Festival and nurture the audiences of the future with a wide range of Festival PLUS programmes. These include post-performance meet-the-artist sessions, talks, workshops, masterclasses, youth programmes and other events. The Young Friends Scheme goes from strength to strength and continues to nurture and stimulate interest in performing arts among secondary school and university students.
Our budget for the 2010 Arts Festival is just under $70 million. We have received a subvention of $17.18 million from the Government through the Leisure and Cultural Services Department, and the Hong Kong Jockey Club Charities Trust will continue to support three pillar programmes with a donation of about $9 million. The Arts Festival hopes to raise approximately $12.8 million through sponsorships and donations, and another $29 million through ticket sales.
The Hong Kong Arts Festival Programme & Booking Guide is available at all URBTIX outlets from 15 October 2009. We have produced a DVD/DVD-ROM of video introductions and audio excerpts that allows you to preview selected programmes. Audiences may request a free DVD/DVD-ROM by returning the request form in the Programme & Booking Guide, or view video highlights of selected programmes on the Hong Kong Arts Festival website. Discs are limited and will be distributed on a first-come, first-served basis.
Advance Bookings for the 38th Hong Kong Arts Festival will be accepted by post, fax or on the Hong Kong Arts Festival website from 15 October to 27 November, 2009.
Counter Bookings will start on 5 December, 2009. Patrons can check in the Programme & Booking Guide or visit the Hong Kong Arts Festival website at http://www.hk.artsfestival.org for more details **.
For further enquiries, please contact Ms Katy Cheng, Marketing Director, at tel: (852) 2824 3555 or the following Marketing staff members:
Opera/Music programmes:
Mr Richard TSANG (852) 2828 4931
Chinese Opera/Theater/Dance programmes:
Ms Alexia CHOW (852) 2828 4933
Ms Gigi CHANG (852) 2828 4932
*The Mariinsky Ballet, the Mariinsky Opera and the Mariinsky Orchestra are counted as three individual performing groups in the statistics.
**The 38th Hong Kong Arts Festival website is developed by wwwins Consulting.
###