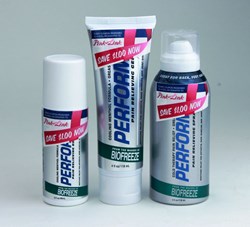 Akron, OH (PRWEB) January 28, 2014
Hygenic/Performance Health, maker of Perform Pain Reliever, increased in-store activity with an Instant Redeemable Coupon (IRC) program in support of Pink-Link Breast Cancer Support Network, an online support resource for women affected by breast cancer. The IRC program resulted in savings for the consumer and a donation for Pink-Link for each coupon redeemed. The program ran during Breast Cancer Awareness Month and concluded with a total donation of over $18,000 to Pink-Link.
"Hygenic/Performance Health is an integral partner in supporting Pink-Link and I am truly grateful for their generous donation," stated Vicki Tashman, founder of Pink-Link. "Their 2013 donation is essential to our mission, connecting breast cancer survivors online. These funds will go directly to our community outreach efforts so that all survivors can receive the support, information and encouragement they need during treatment and on their journey to a healthy survivorship. We currently have over 5,000 members representing all 50 states and 51 countries."
Pink-Link is a nonprofit organization and all breast cancer support services are free. Pink-Link's key service, an online database of breast cancer survivors, provides an intimate and personal link between breast cancer survivors. This "mentor-survivor" relationship provides the essential on-going support needed to endure treatment of breast cancer.
"This annual program, which we launched in 2010, has resulted in a total donation of almost $50,000 to the Pink-Link Breast Cancer Survivorship Network. Pink-Link is an outstanding organization and we are honored to be a part of the fight. It's gratifying to see our donation go directly to those affected by this terrible disease. Every year I am humbled by the experience and thankful to be a part of this initiative. Vicki and her team at Pink-Link are great partners and appreciate our contribution," stated Chas Tabone, Trade Marketing Manager at Hygenic/Performance Health. "I also want to thank all our retailer partners and customers who participated in the Perform Breast Cancer IRC Program. Without their support, this donation would not have happened."
About Perform Pain Reliever – Pain Relief. No Pills.
Perform Pain Reliever is a cold therapy topical analgesic designed to deliver relief exactly where is hurts. Available in a Gel, Spray, Roll-On and On-the-Go Singles, Perform Pain Reliever provides the benefit of cold therapy without the hassles, discomfort, and possible side effects of ice. By relieving short-term pain associated with arthritis, sore muscles and joint discomfort, Perform Pain Relieving products can help the body to move more freely, which then promotes faster long-term healing and recovery. Perform Pain Relieving products do not contain NSAIDs, ibuprofen, aspirin or salicylate. http://www.performpainrelief.com; http://www.PerformSingles.com
About Pink-Link
Pink-Link is a non-profit 501(c)3 organization whose mission is to empower women in obtaining a healthy survivorship of breast cancer. Founded in 2005 by Vicki Tashman, Pink-Link provides an on-line support service for women consisting of an innovative searchable database where women with breast cancer can connect with other women who have a similar diagnosis. By harnessing the power of the Internet and using a custom-built program which meets the privacy needs of their members, Pink-Link creates an intimate and personal link between patients, survivors, friends and family.
About Hygenic/Performance Health
Hygenic/Performance Health built its business by developing products that help people manage their pain, restore their strength and improve their overall health. Maker of market-leading Perform®, TheraBand™, Biofreeze® and Cramer® products, Hygenic/Performance Health provides a broad portfolio of products for the therapy, rehabilitation, massage, sports medicine, wellness, fitness and consumer retail markets.