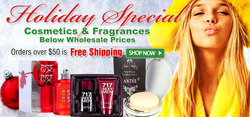 Los Angeles, CA (Vocus) November 6, 2010
PerfumeCosmeticMall.com, an online perfume and cologne dealer based in Los Angeles, has recently announced a company-wide expansion which adds a wider array of high quality imitation perfumes and colognes to its already large selection of discounted name brand, discontinued and hard-to-find generic perfumes and colognes. This expansion allows PerfumeCosemeticsMall.com to become a major player in the fragrance products industry.
At the same time, PerfumeCosmeticMall.com has also added over 100 skilled and experienced employees trained to help customers select any perfume or cologne for their particular needs from among the over 10,000 different items the company now stocks. This top-notch service even extends to quickly searching for rare and hard-to-find or discontinued scents at reasonable prices. This expansion of both products and services helps make PerfumeCosmeticMall.com a top player among perfume and cologne retailers and wholesalers.
Everything PerfumeCosmeticMall.com sells is based solely on the original scent, and inspected, and reviewed to ensure that only the same high quality ingredients used in name brands fragrances are used to create these imitation brands. Even experts have trouble telling the original brands apart from these generic brands. PerfumeCosmeticMall.com also promises that even the rare items for which a consumer requests a search will meet with the customer's complete satisfaction.
If PerfumeCosmeticMall.com does not have a hard-to-find item in stock, the company offers to help quickly locate any perfume or cologne that a customer may be seeking, even the rarest items, and at the best price available. Great customer service is key to everyone who works at the company.
PerfumeCosmeticMall.com backs up this promise to the consumer through the expansion of its own warehouse, and at the same time, by aligning itself with several other well-stocked warehouses, as well as with suppliers the world over. PerfumeCosmeticMall.com either already has the best imitation perfume or cologne in stock, or else its experts will try their best to find any consumer whatever he or she may be seeking.
For the past several years, PerfumeCosmeticMall.com has been known for specializing in high quality generic perfumes and colognes. Fragrances will always remain a major part of shopping at PerfumeCosmeticMall.com. The expansion enables the company to carry a wider array of products.
Among the products that can now be found at PerfumeCosmeticMall.com include imitation brands for longstanding favorite scents, some discontinued fragrances, special offers, as well as generic brands of the newest products on the market. Its line of Women's Perfumes includes quality generic brands for the best sellers, the hottest celebrity offerings, clearance and discontinued scents, and even the newest perfumes. The Men's Cologne includes generic versions of the most popular brands, the best selling celebrity scents, clearance and discontinued products, and also for the newest products even as they are being introduced. All of these perfumes and colognes are offered at some of the lowest possible prices found on the internet. Now, PerfumeCosmeticMall.com has expanded to include even more generic versions of all-time favorites. By using the same high quality ingredients as those found in name brands, consumers no longer have to pay extra for a designer's name on their favorite perfume or cologne.
PerfumeCosmeticMall.com is open daily from 9:00 a.m. to 5:00 p.m. Pacific Standard Time and can be reached at 1-213-741-0671 or online at http://www.PerfumeCosmeticMall.com
# # #