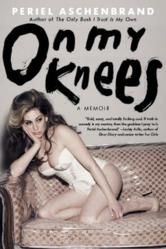 "Funny, funny, funny." James Frey, New York Times Bestselling Author
New York, NY (PRWEB) June 18, 2013
On Thursday, June 20th, the Museum of Sex will host the launch party for acclaimed writer Periel Aschenbrand's latest book by Harper Collins titled, "On My Knees."
"On My Knees" showcases Periel's wicked wit and a motley cast of characters that includes her hovering Jewish mother, her drama queen uncle, and her neurotic best friend/wing woman. Periel Aschenbrand takes readers on a journey through the seventh circle of single girl hell—crazy one night stands; an unhealthy attachment to a dental hygienist; a run-in with Phillip Roth and, in the end, a trip to Israel and an encounter with a man who helps her regain her footing and find her heart.
"Meet the Lady Gaga of literature! On My Knees is sexy, funny, titillating, and badass."
– Touré, Writer, Cultural Critic, and Co-host of The Cycle on MSNBC
"If truth in comedy is my mantra, then the goddess I pray to is Periel Aschenbrand."
– Lesley Arfin, Author of Dear Diary & senior writer for HBO series GIRLS
"Uproarious. . . evokes the same playful crudeness found in the writing of Chelsea Handler or Sarah Silverman. Fearlessly fun, Aschenbrand is perfect for those who have experienced heartbreak but are on their way to being back on top."
– Library Journal
BIO
Periel Aschenbrand is a critically acclaimed writer and designer as well as the Creative Director of House of Exposure. Her previous book, "The Only Bush I Trust Is My Own," won her praise from numerous publications including this quote from The New York Times, "Unsavorily compelling...In the manner of a female Howard Stern."
The book launch party at the Museum of Sex is on Thursday, June 20th from 7:00pm - 9:00pm and is open to press and members of the publishing industry. To attend this special event, please RSVP to rsvp(at)museumofsex.com.
__________________________________________
ABOUT THE MUSEUM OF SEX
The mission of the Museum of Sex is to preserve and present the history, evolution and cultural significance of human sexuality. Take an educational journey to the epicenter of human sexuality and explore this 14,000 square foot museum displaying hundreds of artifacts on sexuality from leading scholars, artists, and from the museum's permanent collection. With each new exhibition, this museum is committed to addressing a wide range of once taboo topics, while simultaneously highlighting material and artifacts from different cultures, time periods and media. With a newly redesigned Fifth Avenue retail store and a museum bar, the Museum of Sex is constantly evolving and has no plans to slow down.