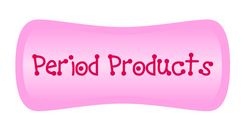 I was so relieved to find this website. I was looking for some environmentally friendly feminine supplies, when I found Period Products
Redondo Beach, Calif. (PRWEB) September 15, 2008
Red Rags, LLC, announced the grand opening of its new online store, Period Products at http://www.Period-Products.com offering hard to find menstruation supplies in one location. Women can prevent awkwardness when buying their monthly menstrual supplies in person by having them discreetly shipped to their doorstep.
Period Products is the first and only store to solely specialize in menstrual supplies. The unique and vast product selection features books, cases for pads and tampons, feminine hygiene, laundry remedies, pain relievers for cramps and PMS, and disposable and period panties. The feminine hygiene line consists of feminine deodorant, wash and wipes, menstrual cups, organic pads and tampons, first period kits, and sanitary disposal bags.
Environmentally responsible options include organic cotton pads and tampons and reusable menstrual cups. Organic pads and tampons save natural resources, reduce pollution, and keeps toxic chemicals out of the environment. Reusable menstrual cups decrease the waste dumped in landfills.
The owner, Debbie Cooper says, "I started the business because I couldn't find what I needed for my heavy periods. I wanted a wider variety of choices than the standard drug and grocery store product lines. Our selection covers all the products a woman could need while having her period."
Period Products customer, Karen Campbell agrees. "I was so relieved to find this website. I was looking for some environmentally friendly feminine supplies, when I found Period Products", says Campbell of Southern California. "I placed an order for the items that I had been looking for including a tampon case and disposable underwear. I couldn't believe how fast my order shipped, along with free samples. I was very happy with my order, and I've already returned to the site for some books and first period kits for my nieces."
These products and more can be ordered on the web at http://www.Period-Products.com.
###