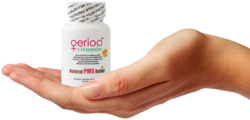 PMS Supplements are Revolutionized with the New Period Vitamin Release
Chicago, IL (PRWEB) May 18, 2012
PMS supplements are on the rise in popularity and Period Vitamin provides a new alternative to the standard medicinal, over-the-counter options for women.
By providing options to women, Period Vitamin has changed the views of PMS supplements. With an all natural safe alternative to PMS relief, Period Vitamin balances nutrients that are required for women.
The most highly recommended options for PMS treatment from doctors are the over-the-counter remedies allowing Period Vitamin to find a stronghold in the holistic, natural market of PMS supplements.
Period Vitamin is comprised of all natural ingredients, supplied by reputable natural suppliers of herbs, minerals, and vitamins that are backed with support from the research community that were conducted through various double-blind trials.
Hormone balancers are a new class of PMS supplements that are designed to alter the fluctuations in hormones that create PMS symptoms. Period Vitamin provides natural ingredients that are specifically designed to counter-balance those fluctuations and stabilized women's hormone levels.
Period Vitamin has planned the release of their second Period Vitamin in 2012 that will provide more vitamins and minerals that are needed for women's health as well as providing more herbs to target specific PMS symptoms.
There is an entire market of PMS supplements on the market to help with women's health, but only Period Vitamin provide an all-natural supplement that is designed as a hormone balancer. Period Vitamin provides itself on eliminating the use of fillers, preservatives or animal by-products in their products making Period Vitamin completely safe.
The Journal of the American College of Nutrition published an article in February of 2000 that indicated that many supplements such as calcium, magnesium, vitamin B6, and vitamin E may provide some answers for PMS relief but more research was needed.
This sparked an entire group of studies conducted between 2000 and 2008 that prove these vitamins and minerals do in fact reduce the effects of PMS. Period Vitamin takes these supplements, along with other herbs and combines them into one supplement.
After reviewing natural known remedies for PMS relief and increasing the levels of vitamins that are available in Period Vitamin, they have been able to provide a PMS supplement that targets the PMS symptoms and nutritional requirements that women need.
Period Vitamin wanted to bring a product to the market that helped improve the health of women while giving them relief of their most bothersome symptoms. The first version of Period Vitamin found success and the second version will bring more benefits to the for the PMS supplement market.
For more information about Period Vitamin, visit PeriodVitamin.com. Period Vitamin is available on the website with free shipping.
About Period Vitamin:
Period Vitamin was founded in 2008 by women seeking to better women's health through all natural PMS relief. They are a web-based business out of Chicago, Illinois.
Contact:
http://www.PeriodVitamin.com