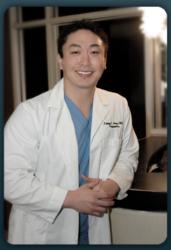 We treat gum recessions on a daily basis with a technique called connective tissue grafting
Campbell, CA (PRWEB) April 27, 2012
Ueno Periodontics, a Campbell periodontist office and dental office that offers dental implants in the Campbell and San Jose areas, is offering a service focused on correcting gum recession, protecting gums and keeping smiles healthy. Gum recession causes a significant detachment of both bone and gum tissue to the tooth. That weakens the tooth's stability and leads to a poor long-term prognosis.
"We treat gum recessions on a daily basis with a technique called connective tissue grafting," Dr. Jeremy Ueno of Ueno Periodontics said. "We can take tissue from the roof of the patient's mouth or from donor tissue, which eliminates a second surgical site in the mouth, and successfully grow new gum tissue on the tooth and cover the exposed root caused by recession. The donor graft that we use is called Alloderm and has been used successfully in the medical industry for years to treat burn victims. We have used these grafts in the mouth for many years and have seen excellent long-term results."
Gum recession happens for a variety of reasons. For younger patients, most recessions that send them to a periodontist office come from tooth movement when the patient is in braces. In older patients, most recessions come from toothbrush abrasions, trauma or periodontal disease.
Patients with gum recession are also at a much higher risk for cold sensitivity and root cavities. Teeth without quality soft tissue, called keratinized tissue, are at higher risk for additional loss of attachment due to trauma from brushing teeth and inflammation from plaque accumulation.
For more details about gum recession or any of Ueno Periodontics' products or services, call 408-371-7617, check out the periodontist office on the web at http://www.uenoperiodontics.com or visit 1930 S. Bascom Ave., Unit 120, in Campbell.
About Ueno Periodontics
Ueno Periodontics is a dental office based in Campbell that offers high-tech and high-care services, such as dental implants, laser surgery and other periodontal procedures. Dr. Jeremy Ueno is a board-certified periodontist and a Bay Area native, who was born and raised in San Jose. He is an active member of the American Academy of Periodontology, the California Society of Periodontists, the American Dental Association, the Academy of Osseointegration, the Santa Clara County Dental Society and the California Dental Association.