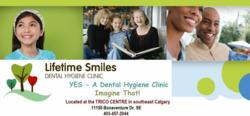 Through social media alone, we have been able grow our practice as well as establishing partnerships with a renowned companies such as Periowave in a combined effort to bring oral health to the HIV/AIDS community. ~Sally Lloyd
Vancouver, British Columbia, Canada (PRWEB) July 07, 2011
While the media tends to focus on celebrity twitter meltdowns, savvy businesses are effectively using the Social Media world to making unique connections online. Seeking out strategic partners via social media has become a smart and very effective way of doing business and small businesses in particular seem to have found their groove in this ever changing online world.
Lifetime Smiles Dental Hygiene is a dental hygiene clinic that recently opened in southeast Calgary and owner Sally Lloyd, RDH has a zest for social media. She was quickly recognized by the social media marketing team at Periowave™ as being very active, relevant and an important resource in the online dental communities and on top of that she was already using the Periowave technology in her practice. Sally and Periowave started connecting via social media via daily "retweets", "shout outs", "#FF's" and more, which eventually led to an off-line conversation about a charity program that would support the HIV community in Calgary.
Sally Lloyd, RDH of Lifetime Smiles Dental Clinic concurs. "Social Media has been a great way for Lifetime Smiles to expand our public awareness. Through social media alone, we have been able grow our practice as well as establishing partnerships with renowned companies such as Periowave in a combined effort to bring oral health to the HIV/AIDS community."
Periowave quickly recognized what Sally and her team had already achieved in the community and reached out to donate state of the art Periowave cold lasers and treatment kits to the Lifetime Smiles Dental Hygienic Clinic. This would allow the team of Dental Hygienists to treat the gum disease of HIV/AIDS patients at their clinic at a significantly reduced price. HIV/Aids patients are predisposed to Periodontal Disease and are at a much higher risk of severe gum disease that can lead to other serious infections in the body due to their low immune system.
"Periowave™ is proud to partner with Lifetime Smiles, so that we can bring a much needed service to the HIV/AIDS community," says Carolyn Cross, Chairman and CEO of Ondine Biomedical. "As recent studies have shown, oral health is an essential element to overall health, and we are thrilled there are clinics out there like Lifetime Smiles that provide and promote dental services to the HIV community".
In the past year, Lifetime Smiles Dental Hygienic Clinic has been associated with several other charitable causes such as Operation Smile and A Gift From the Heart, both are programs where local dental hygienists can give back to their local communities by offering their services at little or no cost to residents. Periowave also recently sponsored Kindness in Action which is dedicated to promoting oral health to poverty stricken communities in Peru.
About Lifetime Smiles Dental Hygienic Clinic
Lifetime Smiles Dental Hygienic Clinic is located at the TRICO CENTRE in southeast Calgary on 11150 Bonaventure Dr. SE , and can be reached at 404-457-2044 or course via social media on Twitter or Facebook. Watch out, they might scare you with their fast responses!
About Periowave Dental Techologies
Periowave™ is a state of the art, hand-held dental devise that uses photodisinfection technology to eliminate the bacteria that causes gum disease. Periowave is a painless, non-antibiotic and non-invasive procedure that is currently in use and receiving rave reviews by dental professionals throughout Canada and the European Union. All of the equipment that has been donated by Periowave will be used to combat and prevent gum disease, gingivitis and other implications resulting from poor oral health.
Periowave is currently available in Canada, Europe and Japan and is ready to be engaged on Twitter and Facebook
# # #