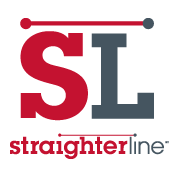 Employers working with the two of us demonstrate their commitment to their employees' educational and financial well-being.
BALTIMORE, MD (PRWEB) November 15, 2012
StraighterLine (StraighterLine.com) announced today that PerkSpot (PerkSpot.com) will offer their PerkSpot members and families a new tuition discount through StraighterLine's online college courses. This new PerkSpot benefit will draw upon StraighterLine's $99 a month subscription model to allow students to take general education courses on their own schedules. Students who take advantage of this program can save up to 90% on their first year of college tuition.
"Both Perkspot and StraighterLine believe that starting college doesn't have to be expensive," says Burck Smith, CEO of StraighterLine. "Employers working with the two of us demonstrate their commitment to their employees' educational and financial well-being."
Through this partnership PerkSpot members and families have the opportunity to save even more on their college education, an increasingly valuable benefit given today's skyrocketing costs of education. StraighterLine's affordable online college courses allow students to save up to 90% on their first year of college. Students can spend a year or two at Straighterline as if it were an online community college before transferring to their preferred college or university to complete their degree. Course credits transfer to StraighterLine's partner colleges and universities or through the ACE Credit service.
In addition to educational savings, the relationship with StraighterLine also provides flexible and convenient access to the kind of courses working adults require for retraining, career advancement and the pursuit of supplemental degrees.
PerkSpot members and families will have the opportunity to enroll in any of StraighterLine's online college courses and receive a special member's only price. Currently, StraighterLine offers forty-two entry-level college courses online including College Algebra, Precalculus, Calculus I and II, Business Writing, Introduction to Biology, Introduction to Biology with lab, General Chemistry I, General Chemistry I with lab, English Comp I and II, Accounting I and II, Managerial Accounting, Macroeconomics, Microeconomics, Business Statistics, Business Ethics, Organizational Behavior, Anatomy & Physiology I & II, each with a lab option, Medical Terminology, Introduction to Psychology, Introduction to Business, Introduction to Criminal Justice, Introduction to Nutrition, Introduction to Sociology, Western Civilization I & II, Personal Finance, United States History I & II, Pharmacology I and II, Student Success, General Physics I, General Physics I with lab and two developmental courses
About PerkSpot
PerkSpot's clients include Fortune 500 corporations, state and local governments, school districts, and other affinity groups. PerkSpot continues to be a leading provider in benefits and perks programs through their proprietary technology platform. They provide value to organizations' employees, or association members, with single point of access for specialty benefits, personal insurance products, and discounts on consumer goods and services.
To learn more about PerkSpot visit them at: PerkSpot.com/
About StraighterLine
StraighterLine has been recognized as a revolutionizing force in education by major news organizations and the U.S. Chamber of Commerce for offering students online courses that earn real college credit for just $99 a month. Inside Higher Ed recognized StraighterLine for offering the "...lowest-cost set of credit-bearing courses on the Internet." And Fast Company named StraighterLine one of the "10 Most Innovative Companies in Education."
In order to facilitate the award of credit, StraighterLine has forged partnerships with leading accredited online colleges and universities. A student ultimately earns a degree from those institutions but realizes tremendous savings and convenience by starting with StraighterLine.
StraighterLine's courses are evaluated and recommended by the American Council on Education's College Credit Recommendation Service (ACE CREDIT). In addition to the institutions with which StraighterLine has a direct relationship, more than 300 other schools are reported to have accepted StraighterLine coursework for transfer credit.
Currently, StraighterLine offers 42 entry-level college courses online in the Sciences, Humanities, English, Math and Business. 5 StraighterLine courses have been approved by The College Board to be listed as AP courses: AP Macroeconomics, AP Microeconomics, AP English Language and Composition, AP Calculus AB and AP Psychology. And dozens of StraighterLine courses cover the same subject areas as CLEP exams, making them acceptable alternatives to or preparations for those tests.
For information, visit Straighterline.com or call 1-877-str8erline (1-877-787-8375).
###