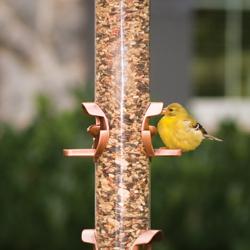 Lititz, PA (PRWEB) October 18, 2012
With the growing curiosity in birding—60 million Americans are interested in this hobby—more and more budding birders are looking for ways to enjoy watching their feathered friends. The United States hosts over 1,000 species of birds, so why have a bird feeder that's one-size-fits-all?
To offer a fun alternative, Perky-Pet® is introducing a new Design-A-Feeder that lets customers mix and match components to create the feeder they want. It's an ideal family activity and a great way for individual birders to create a one-of-a-kind feeder for themselves—or an ideal "made it special for you" gift. The October introduction makes this new product perfect for holiday gifting.
The new Design-A-Feeder offers significantly more durability and quality than most seed feeders currently available. This is due to the high-end, high-quality die-cast zinc components used to create the feed seeders. Because they are designed online as an individualized product, there is nothing else on the market like the customized Design-A-Feeder. Those who appreciate a quality seed feeder will enjoy their own design for years to come.
When Perky-Pet® introduced its first Design-A-Feeder in 2011, a customizable hummingbird feeder, it quickly gained popularity. The newest design-able feeder brings the same variety and fun to seed feeders. By combining high-quality components, customers can watch their unique feeder come to life. They can create their own special feeder online by choosing:

the tube size—pick larger or smaller tubes
the cap design—choose the color and shape
the base color – choose the color base
how seeds are distributed—design the feeder with the number of desired "ports" where birds can access seeds
the type of tray—select an antique copper, black or green base
the kind of perch desired—choose from various options
The Design-A-Feeder offers two tube sizes, 15" and 23". The 23" tube can accommodate 6 feeding ports and hold up to 1.8 lbs. of seed, while the 15" tube hosts four ports and a 1 pound seed capacity.
Perky-Pet's new seed Design-A-Feeder lets birders attract more than one kind of bird with its patented 2-in-1 port that holds two types of bird seed. Several or all of the ports can simply be turned at any time to serve either mixed or thistle seed.
All caps and ports are made from heavy-duty die-cast zinc and the Perky-Pet® logo is embossed on the top of the caps. The finished product looks attractive and professionally designed and blends in well with backyard environments.
Design-A-Feeder Product Engineer, Paul McQuillan noted "the high quality of the feeder is achieved through the use of cast zinc components and other high-quality components which make this seed feeder one of the most durable and long-lasting feeders on the market today."
Sonal Centofante, Category Development Manager for Perky-Pet®, mentioned, "We are very proud to offer this Design-A-Feeder experience for our bird feeding consumers. We've invested a lot of time in this product to make it a premium quality, one-of-a-kind seed feeder. It's an experience we think bird lovers will enjoy."
Great for Gift Giving
With the holidays coming up, it's a great time for people to design their own birdfeeders as gifts—without the hassle of wrapping and shipping. Design-A-Feeders are unique, because they can be custom-designed in minutes, for a particular person, created with a specific person's tastes in mind. There is nothing on the market today that offers this opportunity except Perky-Pet's Design-A-Feeder.
Stimulating Creativity
Whether Design-A-Feeder is given as a customized gift or purchased for oneself, the ability to design your own feeders stimulates creativity. It is a great way to help children develop an interest in birding and express their creativity. Imagine the look of awe when a child has designed a bird feeder and then opens the box a few days later and sees his or her creation in real life!
The Design-A-Feeder process is very easy and adults and children alike will love making choices and watching their seed feeder take shape online as they select different options. Most exciting, they will be designing a one-of-a-kind bird feeder that can't be purchased anywhere else. These feeders are very durable, long-lasting and will be a cherished treasure for many years, thanks to the heavy-duty components of the bird feeders. The seed feeders are virtually indestructible.
The new seed Design-A-Feeder is now available to consumers exclusively online at http://www.BirdFeeders.com/Design-A-Feeder and joins the hummingbird Design-A-Feeder from Perky-Pet®, which was introduced in 2011. A variety of new color selections and styles are also available for the hummingbird Design-A-Feeder.
Birders can start creating a Perky-Pet® Design-A-Feeder, or purchase one, by visiting http://www.BirdFeeders.com/Design-A-Feeder.
About Perky-Pet®
Perky-Pet® brand is a trusted name to bird lovers, with high-quality, functional feeders that address the demands of both bird hobbyists and enthusiasts alike. A good resource for just about every wild bird need is right at your fingertips. Visit the Perky-Pet® website, http://www.birdfeeders.com, to learn more about bird watching, bird feeding tips and tools, and ways to attract birds. Perky-Pet® is a registered trademark of Woodstream Corporation (http://www.woodstream.com), a long-standing, privately held company and leading manufacturer of quality-branded rodent control products, caring control products for pets and wildlife, natural solutions for lawns and gardens and wild bird feeding products.
###