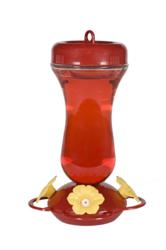 Lititz, PA (PRWEB) May 01, 2012
Just in time for hummingbirds migrating north, Perky-Pet® a leader in the wild bird feeding category, unveils its latest patent-pending, hummingbird feeder design that requires no inverting to fill – simply pour nectar and hang. Perky-Pet® Glass Top Fill Hummingbird Feeder features a wide mouth top opening that can be filled by simply unscrewing the cap. This feeder is available in three bottle sizes – 8oz., 16oz., and 24oz. – and retails for under $20.
Providing hours of enjoyment for owners and sweet nectar for hummingbirds, these Glass Top Fill Hummingbird Feeders each contain four unique soft flower feeding ports. Additionally, the design includes a built-in ant moat on the feeder's lid, eliminating ants from feeding on the nectar.
While these feeders are easy to use, they are also easy to clean. To disassemble, simply remove the lid and unscrew the bottle from the base. From there, the base separates and the flower ports snap off. All pieces can be washed together in warm soapy water, rinsed thoroughly, and reassembled in minutes.
"We listened to the requests of our avid hummingbird community," explains Jenna Lefever, Category Development Associate for Perky-Pet®. "They were looking for something that's easy to use and will prevent spilling. We believe the Glass Top Fill Hummingbird Feeders are what our customers want and our feathered friends will enjoy."
To learn more about the Perky-Pet® Glass Top Hummingbird Feeder's unique design, or to purchase one, visit http://www.birdfeeders.com/shop/top-fill-glass-hummingbird-feeders.
About Perky-Pet®
Perky-Pet® brand is a trusted name to bird lovers, with high quality, functional feeders that address the demands of both bird hobbyists and enthusiasts alike. A good resource for just about every wild bird need is right at your fingertips. Visit the Perky-Pet® website to learn more about bird watching, bird feeding tips and tools, and ways to attract birds. Perky-Pet® is a registered trademark of Woodstream Corporation, a long-standing, privately-held company and leading manufacturer of quality-branded rodent control products, caring control products for pets and wildlife, natural solutions for lawns and gardens and wild bird feeding products.