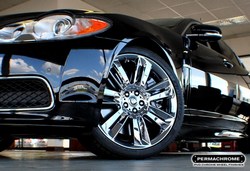 Your Factory Wheels Are The Best Wheels For Your Vehicle – PermaChrome PVD Makes Them Better
Fullerton, Calif. (PRWEB) April 3, 2011
PermaChrome PVD Wheels (originally from Detroit, Michigan), is the premier refinisher and wholesaler of original equipment and aftermarket wheels. PermaChrome PVD has the largest inventory of Chrome and Black Chrome PVD wheels in the U.S. PVD or Physical Vapor Deposition is a patented cutting-edge wheel finish technology that combines vacuum plating with powder coating as a durable and environmentally-green alternative to traditional chrome plating. PermaChrome PVD Wheels has recently opened a new West Coast facility in Fullerton, California, to handle a much greater production capacity.
Your Factory Wheels Are The Best Wheels For Your Vehicle – PermaChrome PVD Makes Them Better
Buying aftermarket wheels for your car or SUV is becoming more difficult due to tire-pressure monitoring systems (TPMS). TPMS is an active safety system designed to electronically monitor the air pressure of a vehicle's tires. The fact that these sensors are built in to the original equipment wheels makes replacing these wheels very difficult for owners of new vehicles.
Fortunately, there is a growing trend of automobile manufacturers offering their customers a wider selection of factory wheels featuring larger diameters, improved build quality, and more attractive styling. PermaChrome PVD Wheels is partnering with luxury automobile dealers across the country giving automobile enthusiasts the opportunity to maintain performance while giving their vehicle a unique look. Any vehicle sporting our wheels in either Bright Chrome PVD or Black Chrome PVD finishes will surely stand out!
New PVD Chrome Technology Replaces Traditional Chrome Plating

Our wheels will NEVER pit or peel.
The PVD (Physical Vapor Deposition) process is environmentally-green.
All PermaChrome PVD wheels are backed by a full 5 year/100,000 mile warranty.
PVD coating weighs less than chrome plating for increased fuel economy.
Bright Chrome PVD has a richer look compared to chrome plating.
Our Black Chrome PVD—There's nothing like it on the road!
PermaChrome PVD Wheels, is the premier manufacturer and wholesaler of original equipment- and aftermarket wheels and now has a new West Coast facility located in Fullerton, California. To find your nearest PermaChrome PVD dealer, please visit us on the web: http://www.PermaChromePVD.com.
Contact:
William Claproth
Director of Marketing
714 449-5180
wclaproth(at)permachrome(dot)com
http://www.PermaChromePVD.com
###