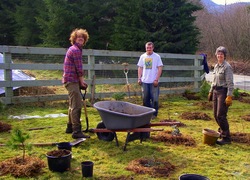 "I would recommend Alderleaf to anyone wanting to reconnect with nature and a desire to live simply, with and for the land." -Jase Grimm, Alderleaf graduate
Monroe, WA (PRWEB) May 6, 2010
The Alderleaf Permaculture Summer Semester is an eight week course focusing on permaculture design, ecology, and sustainable living skills.
The course blends permaculture principles with a holistic knowledge of nature where theory is put into practice. Students gain the knowledge and skills needed to design and implement sustainable living systems in balance with natural ecosystems. Each class day is a blend of instruction and experiential learning with projects on the farm and in the forest.
Through this course participants become proficient at applying nature-based permaculture design for both personal and professional use, to promote healthy communities and a meaningful, fulfilling lifestyle. Upon completion of the course, graduates receive a Permaculture Design Certificate - the international standard for becoming a permaculture designer / sustainability consultant.
The course takes place at Alderleaf Wilderness College in Monroe, WA. The beautiful 15 acre property is nestled in the foothills of the Cascade Mountains 35 miles east of Seattle. It is an evolving model of environmental sustainability and features classrooms, cabins, ponds, a large creek, forested land, pasture, many gardens, chickens, and a food forest.
Participants spend the summer learning:
-Permaculture ethics, principles, & strategies
-Sectors, zones, and micro-climate analysis
-Food forests & companion planting
-Organic food gardening
-Building with natural materials
-Low-impact animal husbandry
-Mushroom foraging & propagation
-Forest stewardship & habitat restoration
-Rainwater harvesting & water retention
-Sustainable resources & alternative energy
-Pond management & aquaculture
-Plant propagation, pruning, & grafting
-Soil building & sheet mulching
-Nature studies & ecology
-Landscape design & planning
The Permaculture Summer Semester at a Glance:
Location: Based out of the Alderleaf Wilderness College campus in Monroe, WA in the Seattle / Puget Sound Region of Washington State in the Pacific Northwest.
Duration: Eight weeks. July 7th through August 27, 2010. Meets three days a week on Wednesdays, Thursdays, and Fridays from 9am to 3pm. Optional Tuesday project days and weekend classes.
Instructors: Adam Rawson, Jason Knight, Filip Tkaczyk, and Kerry Knight
Course Fee: $2400. Includes all instruction and field trips.
Learn more at the Alderleaf Wilderness College website.
# # #