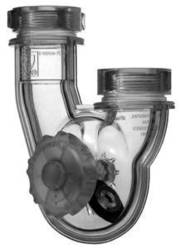 We are honored and pleased to receive this prestigious award. PermaFLOW™ is well positioned to revolutionize drain management by enhancing self-sufficiency while protecting the environment
Houston, Texas (PRWEB) April 29, 2009
PF WaterWorks, the GREEN Drain management company, is once again proud to announce that its flagship product PermaFLOW™ - Never Clog Drain has won the PLATINUM ADEX Award for 2009.
The ADEX Awards program is in its 15th year running and has become one of the largest and most prestigious awards programs for product design of furniture, fixtures and finishes. Winners are selected by a panel of judges that is comprised of professionals representing a cross-section of the design industry. Judges award points to each entry based on innovation and overall design, with the total points earned determining each product's final score.
"Each year there are a few outstanding products that win a PLATINUM AWARD for solving age-old problems. The PermaFLOW Drain solution to a clogged drain is so obvious and so complete you want to hit yourself in the head and say why didn't I think of that?" said John Moses, Publisher of DESIGN JOURNAL.
"We are honored and pleased to receive this prestigious award. PermaFLOW™ is well positioned to revolutionize drain management by enhancing self-sufficiency while protecting the environment," said Sanjay Ahuja, Vice President of PF WaterWorks. "This award, in addition to the "Best of What's New' Award from Popular Science; '100 Best New Products 2008' from Professional Builder, 'Product Innovator Award' from Kitchen and Bath Business as well as inclusion in the 'GreenSpec' directory, is significant acknowledgement of PermaFLOW's™ design, functionality, benefits and ability to impact today and the future."
PermaFLOW™ is engineered to eliminate sink drain clogs and the need for secondary maintenance products and procedures such as plunging, dangerous drain cleaners, messy drain disassembly, and associated health, safety and environmental concerns.
PermaFLOW's™ unique shape increases turbulence to minimize routine buildup. For heavy use, the PermaFLOW™ Drain has a patented, easy-turn wiper that acts as an in-line drain cleaner and clears the clog assisting water conserving faucets to improve flow, reduce build-up and save water. Since chemicals are not required, gray water can be used for recycling. PermaFLOW™ is transparent for quick diagnosis of potential problems; anyone can locate and retrieve jewelry through the sink from the nine o'clock wiper position. Turning to the three o'clock wiper position provides an emergency bypass option for water flow through the upper chamber.
PermaFLOW™ Drain adapts to standard size drainage system in kitchen and bath sinks (1-1/2") and easily replaces new or existing p-traps while supporting water conservation and offering additional unique benefit of easy retrieval of lost jewelry.
About ADEX Awards:
The coveted Awards for Design Excellence (ADEX Awards) are bestowed annually and constitute the largest and most prestigious awards program for product design of furniture, fixtures and finishes marketed to the design trade. DESIGN JOURNAL, the international trade publication for interior designers, architects and facility managers, is the proud sponsor of the ADEX Awards.
About PF WaterWorks:
PF WaterWorks (http://www.pfwaterworks.com) is a product development and manufacturing company targeting 'GREEN' drain management. With a focus on respect for customer's time, effort and money and the commitment to help improve our environment, PF WaterWorks offers innovative, eco-friendly and convenient products to improve self-sufficiency in the residential, commercial, industrial and hospitality sectors.
For more information or to see PermaFLOW™ in action, please visit http://www.pfwaterworks.com ; call 1-877-265-9777.
###