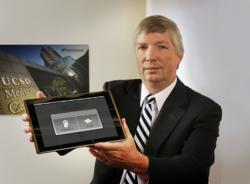 "Our web-based, cloud-computing systems are already used in operating theaters by some of the nation's top cardiologists. Our management team, customers and investors believe that we can bring much-needed change and much-needed improvement to healthcare."
La Jolla, CA (PRWEB) November 08, 2011
Perminova, developer of web-based software for use in the nation's leading cardiology centers, announced today that it has secured $7 million in venture capital.
The company will use the funds to fuel growth as it pioneers the development and delivery of web-based cardiovascular procedure software and low-cost, cloud-computing solutions to major cardiovascular institutes and healthcare systems throughout the United States. Additionally, Perminova will use the investment for working capital, product development, sales and marketing.
"Our team is thrilled to partner with an investor who shares our vision of delivering innovative technology to healthcare," said Craig K. Collins, President & CEO of Perminova, Inc. "Our web-based, cloud-computing systems are already used in operating theaters by some of the nation's top cardiologists. Our management team, customers and investors believe that we can bring much-needed change and much-needed improvement to healthcare."
Perminova's web-based software is a game-changer that can help major healthcare systems dramatically reduce costs, boost quality, improve patient safety and advance medical research, he said.
The funding is structured with an initial $3 million Series A private placement, backed by a $4 million equity credit facility that can be accessed as needed by the company in the future. Privately held Perminova declined to further disclose the terms of the investment or its financial partner.
The company's first product is Perminova EP, a software module that manages the scheduling, workflow, surgical data and billing that occur during cardiac electrophysiological procedures. The software is already deployed at UC San Diego Health System and Mount Sinai Hospital in New York.
"We now have the resources to expand our product offering, which will ultimately establish Perminova as the market standard in web-based software and cloud computing in healthcare," added Collins. "This round of funding provides us with an ample runway to gain market traction and market acceptance while creating a clear path to sustainable growth."
Rory Moore, Perminova's Chairman, stated: "This funding will place Perminova on a ramp of steep growth. This is a highly innovative company that's on a mission to transform the cost structure and productivity of healthcare from the technology side of the equation. I believe the success of Perminova will be important for the San Diego technology community and for further establishing the region as a healthcare information technology hub."
Perminova was originally launched as part of the EvoNexus technology incubator in San Diego. EvoNexus is part of CommNexus, the San Diego region's leading technology industry association that works to accelerate the formation, growth and success of the high tech industry in the region. As a start-up, Perminova flourished in the EvoNexus environment and is now on its way to becoming an established company and another success story for the incubator. In addition to serving on the Perminova Board, Moore is Chairman of CommNexus.
About Perminova
La Jolla, Calif.-based Perminova develops and markets web-based software use in cardiovascular surgery. The company is pioneering healthcare's move from outdated client-server technology to modern, secure cloud computing. Perminova offers customers Software-as-a-Service (SaaS), allowing them to take full advantage of a surgical information system that's more robust, flexible and cost-effective than currently available. In 2011, the company released Perminova EP, a software module that manages the scheduling, workflow and billing that occur before, during and after cardiac electrophysiological (EP) procedures. Perminova EP enables doctors, nurses and administrators to realize enhanced charge-capture, efficiency and patient safety. The software is currently deployed at leading cardiology centers throughout the United States, including UC San Diego Health System and Mount Sinai Hospital in New York.
###