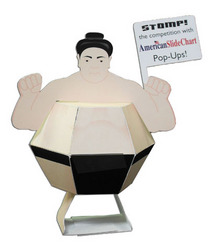 In an increasingly online world, marketers are rediscovering the attention-grabbing staying power of hands-on selling tools
Carol Stream, IL (PRWEB) July 22, 2009
Perrygraf, a leading provider of full-motion, user-interactive dimensional print solutions that build brand awareness and drive customer interest, today announced the addition of Pop-Up People to their popular selection of Postage-Saver Pop-Up formats. Like their postage-saving counterparts, Pop-Up-People mail perfectly flat in their own custom envelope; then jump open upon delivery for an impactful presentation that builds excitement. Available in a range of custom-designed "personalities," Pop-Up People can carry tickets, tokens and coupons that drive action to in-store promotions, dining establishments, online discount specials, and corporate events. They can also be used in conjunction with flat-mailing card inserts that slip into the envelope for a memorable holiday greeting, invitation, employee recognition, or expression of thanks.
In a similar way, Perrygraf Postage-Saver Pop-Ups are designed to seize audience attention and drive targeted action. They are available in five full-color calendar designs; measure 5 ¾" x 5 ¾"; mail in their own 6" x 8" envelope; and cost less than one dollar each when printed in quantities of 500 pieces or more. Most designs are available in standard, split-year, and academic calendar formats. Customers simply specify the logo(s) and/or information to feature on each of two separate imprint areas, which can incorporate two distinct messages. Because all five Postage-Saver Pop-Up designs are in stock and ready to ship, total turnaround time averages just 1-3 weeks.
"In an increasingly online world, marketers are rediscovering the attention-grabbing staying power of hands-on selling tools," notes Don Hoff, director of sales & marketing for American Slide Chart/Perrygraf. "Our 2010 Pop-Ups are a quick, extremely affordable way to stand out and perpetuate pass-along in an age when traditional print is often discarded, and e-mail is often deleted. Their three-dimensional, flat-mailing formats save postage, but produce just enough bulk inside the envelope to get noticed in a mailbox. Their surprise spring-open action can be supported by a range of creative copy points, so they're often displayed on a desktop and shared with others."
"American Slide Chart/Perrygraf also offers interactive slide and wheel formats that condense multiple pages of information into a single portable tool, to deliver situation-specific answers virtually anywhere," notes Hoff. "Field engineers, agricultural professionals, lab technicians, construction workers, and on-site repair teams often find our data-packed dimensional solutions to be a highly accessible and economical alternative to expensive mobile devices or bulky product binders."
For more information on American Slide Chart/Perrygraf's entire line of dimensional selling solutions including 2010 Postage-Saver Pop-Ups and Pop-Up People, visit http://www.americanperrygraf.com or call 1-800-323-4433.
About American Slide Chart/Perrygraf
American Slide Chart/Perrygraf is a premier industry resource for dimensional print solutions that slide, spin, pop up, light up, and even make noise to grab attention and drive audience response. The company pioneered the original "slide chart" concept in 1934, and has evolved into an innovative purveyor of unique, American-made communications tools that help major companies around the world enhance strategic results. The company designs, prints, assembles and ships all products from its fully automated headquarters and production facility in Carol Stream, IL. Specialized staff includes a range of graphic designers, production experts, and strategic marketing consultants who help customers leverage the proven power of dimensional print.
###