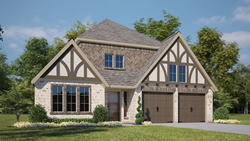 "Dallas is growing quickly, has a strong economy and is very attractive to people looking to relocate. As a Texas-based company, Perry Homes is privileged to start building new homes in the heart of the Lone Star State." - Kathy Britton, Perry Homes CEO
Houston, TX (PRWEB) July 17, 2017
Perry Homes, LLC, one of the largest homebuilders in Texas, is bringing its uncompromising commitment to quality in the construction of new homes to Dallas.
Perry Homes has begun construction in several well-known master-planned communities across the Dallas area with plans for new locations in development.
One of the top-ranked, private home builders in the nation, Perry Homes has a long history and a stellar reputation that make it well suited to serving homebuyers in the booming Dallas market. Its growing relationships in Dallas builds on its presence in Austin, Houston and San Antonio.
"We are thrilled to begin building homes in the Dallas area and expand our reach in Texas," Perry CEO Kathy Britton said. "Dallas is growing quickly, has a strong economy and is very attractive to people looking to relocate. As a Texas-based company, Perry Homes is privileged to start building new homes in the heart of the Lone Star State."
The trusted reputation Perry Homes enjoys was built on homeowner referrals and repeat buyers. The company offers more than 150 floor-plan designs, with unmistakable value and quality in the most desirable communities, all backed by the company's distinguished customer service.
To date, more than 55,000 families in 65-plus communities across Austin, Houston and San Antonio have enjoyed the quality and value that Perry Homes is now making available around Dallas.
Celebrating its 50th year in business, Perry Homes is now present in Trinity Falls located in sought after McKinney, TX. Several other communities that will feature Perry Homes later in 2017 are Devonshire in Forney, TX, Glen Crossing in Celina, TX, Canyon Falls in Flower Mound, TX and Prairie Oaks in Little Elm, TX.
With the relocation of major corporate headquarters such as Toyota, the North Texas area has seen exponential growth and opportunity. In May, CBS News DFW reported that the first wave of over 200 Toyota employees officially moved into the Plano headquarters. Culturemap Dallas published an article in March with some staggering figures, "The Metroplex added 393 residents per day from July 2015 to July 2016."
Perry Homes has already experienced the demand for new homes in Dallas through the launch of their second brand, Britton Homes in 2016. Both brands are committed to exceptional quality, beautiful and functional design, energy efficiency, options for every lifestyle and an industry-leading two year workmanship warranty. The launch of Perry Homes in Dallas, is the natural progression of their Texas Tradition. As they reflect on the previous 50 years, they still believe that their commitment to quality and dedication to home buyers sets them apart from other builders.
The Metroplex encompasses a broad area with the need for varying price points and design styles. By offering both product lines, Perry Homes is able to provide new homes to a broader range of buyers in a larger market area. To experience Perry Homes in Dallas, please visit Trinity Falls in McKinney with prices starting in the $280's.
###
About Perry Homes
Perry Homes, a Texas homebuilder in its 50th year, is committed to providing exceptional value, quality and customer service. Family-owned and operated, Perry Homes has spent over 50 years building a sterling reputation as one of the largest and most trusted homebuilders in Texas. Perry Homes offers a variety of new home designs in over 50 communities throughout Austin, Dallas, Houston and San Antonio. Perry Homes is dedicated to providing first-class customer service before, during and after the sale. The company's continued loyalty to customers, combined with their distinguished reputation, creates an unrivaled demand for Perry Homes. For more information, please visit https://www.perryhomes.com.