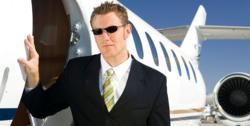 There are almost 10 million millionaires in the US, so the opportunities to work for the ultra-rich are unprecedented
Los Angeles, California (PRWEB) May 28, 2013
Brian Daniel, a former celebrity assistant to Hollywood A-list, billionaires, and royalty has written his first book titled Dream Careers: The Tutorial for Finding Elite Personal Assistant Jobs. Now executive assistants looking to make the leap to the PA world have insider information about making the transition.
With PA jobs at an all-time high in popularity and demand, Brian Daniel is pulling back the curtain to show candidates how to score the world's best jobs by working for a celebrity or billionaire. "I landed jobs working for celebrities and high net worth families," says Daniel, "and I did not have a college degree or an employment agency behind me. The trick is knowing how to break into the hidden job market because the best jobs are not going to be listed on a job site."
Just some of the great features of the book include: how to find celebrities and high net worth families in any area, how to approach the rich and famous tactfully, and – most importantly – how to beat out other candidates that are more qualified than yourself.
This tutorial is the only one of its kind in the world because not only does it come with hundreds of personal assistant resources online, but also has photos of videos of life on the job – it's interactive in nature. So if Daniel is talking about being inside of a celebrity entourage or riding in a million-dollar Phantom Rolls Royce, the reader just clicks the link and is transported right inside the book to experience the celebrity assistant life first-hand. And personal assistant training is also available for those candidates who want career coaching.
ABOUT THE COMPANY
Brian Daniel is a veteran celebrity personal assistant and estate manger to Hollywood personalities, high net worth families and even royalty. After a prestigious job as the Chief of Staff to the Saudi royal family, Daniel founded The Celebrity Personal Assistant Network in 2007, which places executive assistants, PAs and estate managers with the world's rich and famous. The headhunting firm and been featured in worldwide media outlets, magazines and television shows, and Brian Daniel is the world's only recruiter to specialize is personal assistant jobs to celebrities. The employment agency currently places candidates in all U.S. markets including LA, New York City, San Francisco, Las Vegas, Chicago and Miami. For more information about hiring, visit http://www.FindCelebrityJobs.com.