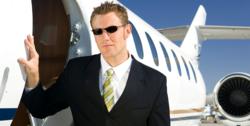 The demand for personal assistants around the U.S. is at an all-time high.
Los Angeles, California (PRWEB) May 14, 2013
Due to the overwhelming demand, personal assistants looking to advance their career can now get world-class personal assistant training with a renowned recruiter who has worked with celebrities, billionaires and royalty.
Headhunter to the stars, Brian Daniel, is the world's leading subject-matter expert on the personal assistant industry, and has authored a number of books about working with celebrities. Because of the explosive growth in the PA field, Daniel is extending his consulting services to coach candidates looking for guidance. His services include assistance for newer candidates looking to change careers, or for more experienced vets looking to advance their careers.
After working as the Chief of Staff to the Saudi royal family for two years, Daniel recognized the need for an elite personal assistant agency to cater to the world's rich and famous. "Before I opened my Los Angeles recruitment firm, there were no headhunters that specifically placed top-tier assistants with celebrities and billionaires," says Daniel. "As far as I know, I am the only company in the world that specializes in the field."
In the U.S. alone, there are approximately 50,000 households that have net worth between 50 and 500 million dollars – and about 500 billionaires, so the demand for personal assistant training is unprecedented. The high net worth are desperate for qualified candidates to run their personal and professional lives. Duties include management of private jets, exotic car fleets, social calendars and well as party planning.
"Many of my high net worth clients in the Midwest," says Daniel, "as so desperate for elite executive assistants that they pay to relocate candidates from LA and New York City because the employment agencies in their area don't specialize in the type of high-caliber candidates they need."
ABOUT THE COMPANY
Brian Daniel is a veteran celebrity personal assistant who has worked with Hollywood A-list, high net worth families and billionaires. As the founder of The Celebrity Personal Assistant Network, Daniel places executive assistants, estate managers and personal assistants in all U.S. markets including Los Angeles, San Francisco, Las Vegas, Chicago, New York City and Miami. For more information on personal assistant training, visit http://www.FindCelebrityJobs.com. Consulting and career coaching services are available in person, by phone, or via Skype.