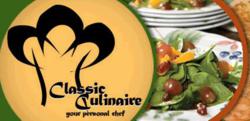 If going out to eat is becoming too expensive and take-out is getting too boring, let Classic Culinaire take care of your culinary needs
Santa Rosa, CA (PRWEB) December 01, 2011
The holiday season is here. A unique idea for friends and family is the gift of fresh gourmet meals this season with Classic Culinaire Gift Certificates. From November 25 to December 31, Classic Culinaire, a Bay Area personal chef service is offering 50% off gift certificates for personal chef service. The half-off promotion is good only for a full week (5 meals) or more of service. The gift certificates are valid for in-home or delivery services.
A week of service includes 5 dinner meals that include protein, starch and vegetables for 4. Classic Culinaire offers gourmet, healthy and wholesome meals prepared by a Bay Area professional chef in the client's own home. They do all the shopping, cooking and clean-up, saving the clients at least 5-10 hours a week in shopping and cooking alone.
"If going out to eat is becoming too expensive and take-out is getting too boring, let Classic Culinaire take care of your culinary needs. With my specialized training I can create any specific menu to fit your lifestyle," says Chef Chad Carlstedt, owner of Classic Culinaire.
Classic Culinaire in the Bay Area provides affordable service and convenience for seniors, busy professionals, families and people with dietary needs. Their service area includes Sonoma, San Francisco, Mendocino, Napa and Marin Counties.
For more information on Classic Culinaire, call (707) 312-9125 or visit them online at http://www.classicculinaire-ba.com. Classic Culinaire is located at 2549 Thistle Creek St. Santa Rosa, CA 95404.
About Classic Culinaire
Classic Culinaire is a personal chef service that customizes meals to fit all lifestyles. The service includes creating a menu for their clients, shopping for all the ingredients and preparing the meals in the clients' own homes. Classic Culinaire packages all meals in Pyrex containers that can go from the refrigerator to the oven with no hassle. They also leave easy to follow heating instructions to warm the meals. After the service, Classic Culinaire leaves with the client's refrigerator full of delicious food and their kitchen as tidy as when they arrived.
###