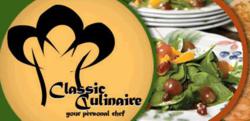 As for joining the Harvest Fairs, we won numerous gold and silver medals in 2009 Harvest Fair including a double gold for our BBQ pulled pork sandwich
Santa Rosa, CA (PRWEB) September 10, 2011
Classic Culinaire's personal chef, who provides gourmet, healthy and wholesome meals for everyone, will be in attendance at this year's Sonoma County Harvest Fair from Sept. 30 to Oct. 2 in Grace Pavilion at the Sonoma County Fairgrounds.
The Sonoma County Harvest Fair is a celebration that features three days of wine tasting with more than 150 wineries participating, wine sales, a marketplace, chef demonstrations, farm and harvest agricultural activities for children and adults, the World Championship Grape Stomp, live jazz, an art show and sale, crafters pavilion, farm animals, and much more.
"We'll be providing small bites using local farm fresh ingredients for everyone to sample and enjoy, while also enjoying the very best wine and food makers from across Sonoma County," said Master Chef Chad Carlstedt of Classic Culinaire.
Classic Culinaire can provide convenience for senior citizens, busy professionals and those with dietary needs because its food is cooked to the specifications of each customer. Chef Chad will arrange an in-home interview to assess a customer's likes, dislikes and dietary needs. He will then create a personalized menu that will then be submitted to the client for approval.
"As for joining the Harvest Fairs, we won numerous gold and silver medals in 2009 Harvest Fair including a double gold for our BBQ pulled pork sandwich," Chef Chad added.
Classic Culinaire can also cater large-scaleevents such as weddings and anniversary parties. Part of the entertainment of any function is the food, and the outstanding cooking provided by Classic Culinaire is sure to be a hit.
For more information on Classic Culinaire and their services, call 707-312-9125 or visit http://www.classicculinaire.com. Classic Culinaire is located at 2549 Thistle Creek St. Santa Rosa CA 95404.
About Classic Culinaire
Classic Culinaire provides San Francisco with the best food in the convenience and comfort of the client's own home. Chef Chad Carlstedt ensures that everyone enjoys their meal without even having to worry about how to make it. Providing a proper assessment on the right diet, Classic Culinaire offers tips on what or what not to eat and providing proper cooking instructions.
# # #