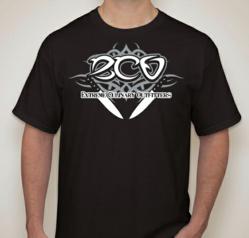 The top chefs at Extreme Culinary Outfitters handle all of the design, production and shipments when not creating original meals for a variety of high profile clientele.
Los Angeles, California (PRWEB) August 29, 2012
Personal chefs have created their own t shirts company called Extreme Culinary Outfitters that now features hand drawn artwork. A new web store is now open at http://www.extremeculinaryoutfitters.com to showcase the designs for both men and women. Chef coats, chef shirts and regular t shirts are now available with the customized artwork. Chefs nationwide now have a source to purchase popular culinary clothing that can be customized with this original artwork for a discounted price. The top chefs at Extreme Culinary Outfitters handle all of the design, production and shipments when not creating original meals for a variety of high profile clientele.
The textile industry is one that has experienced rapid growth in the past 10 years in part from expansion of digital printing technology. New and improved ways to print t shirts and other pieces of clothing are opening up new markets in areas around the world. The high dots per inch print capability of commercial printing equipment are helping the most unique designs to keep their integrity after printing is made. Traditional print methods like screen printing are still in use although the process is slower due to its manual printing requirements.
The Extreme Culinary Outfitters team includes personal and executive chefs that came together to help fill a gap in the culinary wear industry. Corporate companies that produce chef jackets, chef shirts and other chef wear usually print solid color designs with no artwork included. Just as attitudes in kitchens nationwide bring out great food, the designs included in the Extreme Culinary Outfitters shirts allow self-expression for chefs. All hand drawn artwork for the prints are completed at the offices of Extreme Culinary Outfitters.
One way that t shirt companies make larger profits is by increasing the wholesale cost of shirts to suppliers. The traditional t shirt supply chain involves intermediaries purchasing goods from clothing manufacturers and selling these goods direct to department stores, online stores and local retailers. The cost to move these goods is added to the higher wholesale cost in order for companies to earn higher profits. Companies like Extreme Culinary Outfitters that are able to produce all chef shirts and culinary wear in house can drastically reduce the price of shirts for end consumers.
The in stock culinary clothing that is provided at the Extreme Culinary Outfitters website can be ordered online and shipped instantly to any U.S. or Canadian destination. More information can be found by visiting this link http://extremeculinaryoutfitters.com/shop.
About Extreme Culinary Outfitters
Top chef friends started the Extreme Culinary Outfitters company to fill a need for unique culinary design chef shirts, chef jackets and other culinary wear. In an effort to be different, the designers that create the designs are the very chefs that run the Extreme Culinary Outfitters company. These culinary experts know first hand what other chefs want to have in culinary clothing and this data is put into each design. With low prices and fast online shipping, the Extreme Culinary Outfitters website is quickly becoming a trafficked destination for culinary professionals to get unique designs not sold elsewhere online.