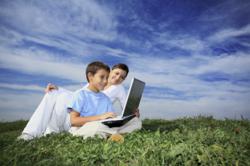 Austin, TX (PRWEB) January 24, 2013
The National Financial Educators Council first monthly financial literacy article appeared in the January issues of Red River Family and Rio Grande Family Magazine. The full page article will be featured in the personal finance section of the monthly publications. The first article focused on the topic of setting family financial goals.
Surveys by the NFEC have shown that many families do not talk about money. The monthly featured article in these publications is designed to help families open up the line of communication about personal finance. This has allowed the NFEC to build off their financial literacy PSA - The Talk – which encourages families to have the talk with their kids about money.
"We commend Rio Grande Family and Red River Family Magazine for helping their readers gain practical personal finance tips. Financial illiteracy is at epidemic levels and we commend the publisher for helping to improve the financial capabilities of those that read their magazine," states Vince Shorb of the NFEC.
The January article entitled 'New Year's Activity: Family Financial Goals' encouraged families to set and work toward common goals. An excerpt from the article, "Working toward family financial goals can bring families closer together as they begin to operate as a single unit to reach those goals. Many top business organizations, sports teams, charities, and sororities share common financial goals that bring team members closer together. If it works for them, why not put the power of financial goal-setting to work for your family?"
One of the tips included having the parents bring out some of the household bills. Then reviewing them with the children and creating a plan to reduce the expense. If successful, the financial literacy article suggests taking part in a fun family activity as a reward.
RedRiverFamily.com is an online parenting community offering expert advice, articles on parenting trends and issues, and numerous ways for parents to enrich their experiences in raising the next generation. It is part of OK Family Publishing and Media Group, which began in 2008. Publications include Red River Family Magazine, Rio Grande Family Magazine, Red River Kids Magazine, and School Bus Express Magazine
The National Financial Educators Council is a financial literacy resource provider of educational material. Additionally, the NFEC is an advocate and a leading organization raising awareness for the financial literacy movement. Their campaigns include: The Talk PSA, Financial EduNation and American Dream Movement are designed to improve the financial capability of people of all ages and teach children about money. The NFEC's social enterprise business model ensures that complimentary resources are made available to organizations that want to teach personal finance.