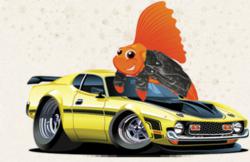 San Diego, CA (PRWEB) September 21, 2012
Berger's article is a guide to the essential steps on how to manage personal finances as a person goes through their 20's to ensure they are on the right track to financial preparedness for their 30's and, ultimately, financially ready for retirement. Roadfish lauds the article as one that can assist with becoming financially literate at any age, essentially serving as an outline to those seeking to gain more knowledge on personal finance, specifically on how to manage personal finances for the future. In his article, Berger gives five steps that can be implemented into almost any budget or financial plan. These steps serve to build financial literacy, preparedness, and freedom for those planning their financial future.
Roadfish began in 2003 with the goal of helping people become financially literate and plan ahead for their future with their finances. "I wanted people to know that it was possible to plan out a solid financial future at any age and with any amount of money," says the magazine's editor. Doe began planning his own financial future as a young, 20-something new graduate who was working an entry-level job in his field. Now, at 35, John leads the magazine, which helps people who were in a situation similar to his get on track and plan their finances to align with their future goals. Doe's background is, in part, what attracted him to Berger's article. "Berger's mentality is that he set himself up for financial success by doing (or avoiding doing) certain things, and by developing certain habits, when he was much younger that have snowballed into wealth now that he's older," says Roadfish.
In this day and age where so many people are concerned about their financial future and are also thinking forward to family planning and retirement, but facing issues such as low paying jobs, bad credit, or simple a lack of knowledge on how to plan their finances, Berger's article is a no-nonsense yet realistic look into how to plan for a financially fit future in five steps. Berger's article gives insight into his own life, which was rife with challenges that would almost make it seem impossible to plan for a stable financial future. After learning how to plan his finances well, Berger wanted to pass that knowledge on to others seeking similar help. "My wife and I just sent our first child off to college, and we'll send our second to college next year. Through all the things that go with this time of life, I've been very focused on teaching my children sound money management principles. And the process made me realize just how much the decisions my wife and I made in our 20′s affect our finances today in our 40′s," he observes. Berger's perspective on finances and working his financial plan is what has allowed him to live a comfortable life and get on track to retire. "This is a must-read article for anyone in their 20's, 30's, 40's or 50's who want to learn how to get their money to work best for them and also get on track for planning for retirement," stated Roadfish.
About Roadfish
Roadfish is a lifestyle and finance magazine that features articles about travel, lifestyle, and financial suggestions such as how to grow wealth by starting early, as well as personal finance education. Roadfish readers are generally men between the ages of 30 and 50 years old who have achieved certain life goals, be they professional or personal goals, and are gearing up or headed towards a new aspiration.