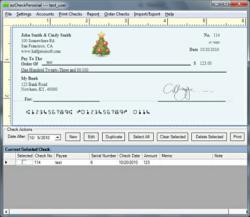 In a down economy, each family needs to stick to their budget. ezCheckPersonal makes it easy to monitor the spending and helps family stay away from debts.
New York, NY (PRWEB) September 30, 2011
Cutting out all the unneeded spending is the first and the most important step to survive a personal financial recession. The new version of ezCheckPersonal, the personal check writing software from Halfpricesoft .com, is released in time with the new category and report features that allow user to easily classify payments and keep tracking of the personal finances. Unlike credit and debit cards where the chances of overshooting the funds available are high, writing checks help user control the spending habit and stick to their budget.
Known for its flexibility and affordability (available for a little as $24 per installation and free online offer is available through TrialPay), ezCheckPrinting allows users write or print a check in just a few clicks. All user have to do is to enter the date, payee's name and amount payable to the payee. This check writer will automatically convert numbers to words.
This new improved check printing software provides users several big-time benefits:
-ezCheckPersonal saves user money by printing check on blank check paper
Using blank check stock is much less expensive than having checks pre-printed. With ezCheckpersonal, user never needs to order expensive checks from bank.
-The new category feature and report features help user stick to their budget
Credit cards becoming the most popular mode of payment in US, but many families have found themselves spiraling into a downward dive of debt because they relied too heavily on credit cards. With ezCheckPersonal check writing software, users can view the reports any time instead of waiting for monthly statement.
-Computer check printing provides more security
Printing cheque when you need them, rather than having pre-printed checks lying around, minimizes opportunities for someone to steal your checks. It's also easy to create back-ups of the data should something happen to your computer or premises.
-The new check writer allows user customize check with personal style
Customers can easily design and print any style bank checks they want. They can change the font, add a logo, add a new label and even put the picture of their pets there
Hope to open ezCheckPersonal check writer software to more family users during this tough economic times, Halfpricesoft.com also announces that customers can get this check writing software and the blank computer check paper for FREE when they check out through TrialPay offers.
"Family users can get ezCheckPersonal for FREE through TrialPay Offer now." said Dr Ge, the founder of halfpricesoft.com. "In a down economy, each family needs to stick to their budget. ezCheckPersonal makes it easy to monitor the spending and helps family stay away from debts. We hope more users can take advantage of this check writing software through this free offer."
ezCheckPersonal is compatible with Windows 7 system, 32-bit or 64-bit. It can run on Windows XP, Me, 2000, 2003 and Vista system too. Any user can start test drive by downloading it from http://www.halfpricesoft.com/check-printing-personal-software-download.asp with no cost and obligation.
About halfpricesoft.com
Founded in 2003, Halfpricesoft.com is the developer and distributor of ezCheckPersonal check writer software. Halfpricesoft.com also has a complete lineup of affordable and easy-to-use tax and financial software titles for small businesses and families, including w2 software, 1099 software, payroll software, check writing software and TimeSheet software.
To learn more about ezCheckpersonal and other free offers from halfpricesoft.com, please visit:
http://www.halfpricesoft.com/check-printing-software.asp
###