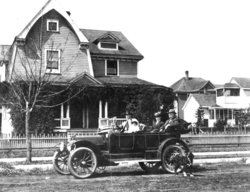 This is a wonderful building with a terrific sense of history about it
Portland, OR (Vocus) July 26, 2010
Portland personal injury attorney Don Jacobs and the NW Injury Law Center has moved into the newly renovated historic George DuBois Home at 514 W. 9th St. near downtown Vancouver, WA. The new location is about five blocks from Jacobs' former Vancouver office on Esther St.
"This is a wonderful building with a terrific sense of history about it," said Jacobs. "With old photos to guide us, we tried to take it back to how it looked when it was built. However, we did take some license for modern amenities."
George and Nellie DuBois constructed their home on 9th St. in 1904. George was born in Iowa in 1868 and moved to Clark County with his father in 1883. The DuBois family was associated with a number of lumber mills in the Vancouver area. The home has seen many remodels and was first used as a law office in the late 1970s.
Don Jacobs is a former member of the Board of Governors of the Washington State Association for Justice and a Past President of the Oregon Trial Lawyers Association. In 2005, he received their Award for Professionalism. In 2008, the Oregon State Bar Association presented him with a President's Special Award of Appreciation for his outstanding leadership in promoting access to justice in Oregon.
When he's not acting as a Portland accident attorney, Mr. Jacobs teaches personal injury and insurance law at Clark College in Vancouver. In his early career, he was a city criminal prosecutor for Woodland Washington.
Don Jacobs created NW Injury Law Center so injured consumers could choose a law firm that devotes all of its resources to helping personal injury victims in the Vancouver WA and Portland OR areas. The firm's only focus is the representation of injured consumers. Jacobs is the principal partner in the Vancouver-based NW Injury Law Center. He has been practicing law in Vancouver and Portland for over 30 years.
###