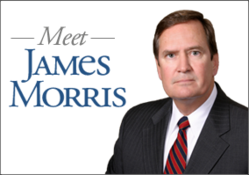 It is important for parents to understand that in the state of New York, the statutes of limitations
Buffalo, NY (PRWEB) May 27, 2012
According to the Centers For Disease Control, more than 9,000 children lost their lives as a result of unintentional injury in the United States. Suffocation rates are on the rise, with a 54 percent increase in reported suffocation among infants less than 1 year old. Child poisoning death rates also went up, with a 91 percent increase among teens aged 15-19, largely due to prescription drug overdose, the report states.
Personal injury lawyer in New York James Morris says it's important for parents to understand their legal rights when a child has been injured or killed as a result of negligence.
The CDC attests that each year in the United States, emergency departments treat more than 200,000 children ages 14 and younger for playground injuries. Nearly half of playground-related injuries are severe–fractures, internal injuries, concussions, dislocations, and amputations. Approximately 75% of non-fatal injuries related to playground equipment take place on public playgrounds, such as schools and daycare centers. CDC data also shows that, between 1990 and 2000, 147 children ages 14 and younger died from playground-related injuries. Of those, 82 died from strangulation and 31 died from falls to the playground surface. Seventy-percent of those deaths occurred on home playgrounds.
Morris says it is important for parents and caregivers to be aware, too, that there are many common causes of childhood death. Between 2000 and 2005, CDC statistics reveal that, between 2000 and 2005, most child deaths from age 0 – 19 involved car accidents, with child drownings, child pedestrian fatalities—also known as child dart-outs—and suffocations the next most common child fatalities.
Families with injured children can take legal action years after the child injury took place. "It is important for parents to understand that in the state of New York, the statutes of limitations for an injury to a child may not begin to be counted until that child turns 18 years of age," says Morris. "The action must be sued within 10 years of accrual in an infant's medical, dental or pediatric malpractice case, even if the infancy tolling provisions apply. If a child was injured years ago and the severity of the injury is only now starting to become clear, parents or guardians may still be able to make a claim."
Injuries to children can occur in all types of settings and can take many forms. Dog attacks on kids and emotional injuries in children happen in private homes, back yards, schools and childcare facilities. Parents who must put their kids in child care must be even more cautious in checking to make sure it is a well-run, reputable facility.
Even the most common, ostensibly well-supervised and/or safe locations can pose great dangers to kids, and it is up to parents and caregivers to keep a close watch at all times in order to keep kids safe, whether they are infants, toddlers or teenagers.
The attorneys at the Law Offices of James Morris know how vulnerable children are to both physical and emotional trauma. If you have an injured child or know a child injury victim, seek a free consultation with a personal injury lawyer in Buffalo, Rochester or Syracuse New York 1-800-477-9044. You can also reach us by completing our online contact form.