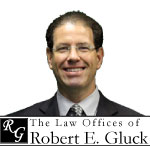 Aggressive - Determined - Accessible
Plantation, FL (PRWEB) February 22, 2012
Local Personal Injury Lawyer Robert E. Gluck began practicing law in 1989 and tried over 47 jury trials before going into private practice in 1991. He spent 1991 – 1997 handling major personal injury jury trials and settlements with other law firms, and then decided to open his own private practice in Plantation in 1998. Since then he has dedicated his career exclusively to personal injury cases, ranging from medical malpractice and slip and fall injuries, to workers' compensation incidents and dog bite accidents, but has recently decided to expand his resume by becoming a Criminal Defense Attorney as well. Gluck also opened an office in Naples, FL in 2004 and currently accepts cases from all over Florida.
Robert E. Gluck is "aggressive, determined, and accessible." What differentiates him from other attorneys is that he builds personal relationships with his clients, making sure they feel comfortable, and know that he will remain beside them every step of the way. Unlike other, larger or "power" firms, who may only be interested in volume and numbers, he cares about his clients and knows each and every one. They are all given his cell phone number and he is always available for phone consultations, conference calls, and/or personal meetings, even on nights and weekends, if necessary. He dedicates his efforts to obtaining a good rapport with each individual and aggressively pursues a positive outcome for each one. Robert E. Gluck makes sure his clients feel confident, knowing that he cares about them, is always available, and will provide them with professional, personal, and efficient service, always fighting for the best outcome possible.
Robert E. Gluck, a Fort Lauderdale Personal Injury Lawyer, is expanding his career by becoming a Criminal Defense Attorney. He is a member of the Florida Bar, Florida Justice Association, Broward County Bar Association, Collier County Bar Association, Broward County Bar, Solo-Small Law Firm Networking Group, and Network Professionals International. Gluck tries all of his own cases and never refers them over to any other lawyers if they do not settle. He has obtained millions of dollars in jury verdicts over the years and has maintained excellent working relationships with judges, doctors and other health professionals of his clients, and other fellow lawyers. With Robert E. Gluck, clients are guaranteed a Personal Injury and Criminal Defense Attorney who has the experience, boldness, and compassion necessary to represent them properly. He tries cases from all areas of the spectrum, spanning from vehicle or electrical accidents, to nursing home abuse, and burn and pool injuries. Gluck's easy, efficient, and user-friendly website offers access to more information on him and his services, and contains features such as free consultation request forms, and other useful links to detailed information on each different type of case. His website also contains what many others do not: a multitude of videos, like "Frequently Asked Questions." Robert E. Gluck chooses his cases carefully so that he maintains a caseload that contains higher levels of personal and professional relationships, and now is not just a Personal Injury Lawyer but a Criminal Defense Attorney too.
Media Contact:
Robert E. Gluck
The Law Offices of Robert E. Gluck
Plantation Office: 954-583-8999
Naples Offoce: 239-403-3728
# # #