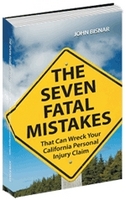 What is completely unacceptable about this case is that the City of San Clemente knew these dangerous conditions existed prior to the incident involving Janice, as this area is prone to flooding and debris accumulation
Newport Beach, CA (Vocus) June 15, 2010
The California personal injury attorneys of BISNAR | CHASE (http://www.BestAttorney.com) have filed a lawsuit against the City of San Clemente, California, for dangerous conditions of public property. The lawsuit was filed after a July 2009 incident in which Janice Silva, a resident of San Luis Obispo County, California, sustained severe, permanent and disabling injuries when she became trapped in debris along a walkway near San Clemente's Linda Lane parking area and beach access tunnel. The action was brought against the defendant by Janice and her husband, Robert Boswick, who was a witness to the incident. The lawsuit is pending in the Superior Court of California, Orange County, case #30-2010.
Dangerous San Clemente Walkway Causes Severe Personal Injuries
According to court documents, on the afternoon of July 26, 2009, Janice Silva was walking from the beach toward the Linda Lane parking area in San Clemente, California. Approximately eight to ten inches of seaweed, sand and other debris covered the walkway and a portion of the curb through the adjacent Linda Lane tunnel and beyond, making it extremely difficult for pedestrians to distinguish between the edges of the walkway and the adjacent curbs in the area. As Janice walked, the debris underneath her gave way, causing her foot to sink and become trapped. Even though her foot was immobilized, her body continued its forward momentum which caused the bones in her leg to twist and break. As a result, Janice sustained serious injury as well as physical and mental pain and suffering.
San Clemente Failed to Correct Dangerous Conditions, Failed to Warn Public of Dangers
"What is completely unacceptable about this case is that the City of San Clemente knew these dangerous conditions existed prior to the incident involving Janice, as this area is prone to flooding and debris accumulation," said Brian Chase, a senior partner at BISNAR | CHASE. "Not only did the city fail to remediate the problem, it did nothing to warn the public about the danger that existed. By choosing to ignore it, city employees acted in a negligent, careless and reckless manner, putting human safety at risk."
The suit alleges that the walkway where Janice was injured was wrought with a variety of hazards that created a substantial risk to her and to others who might use it for similar purposes. First, the area was prone to flooding and to deposits of substantial amounts of debris from ocean tides. What's more, the accumulation of debris hid the walkways, the edges of the walkways and the curbs, jeopardizing the safety of people who traversed this area on foot. The suit alleges that the existence of these dangerous conditions coupled with the city's failure to act appropriately were substantial factors in causing or contributing to the accident injury.
The action seeks economic damages for Janice's severe bodily injuries and past and future physical and mental pain and suffering, as well as past and future economic losses. It also seeks damages for Robert's severe emotional distress after witnessing his wife's fall and resulting injuries.
About BISNAR | CHASE
The BISNAR | CHASE law firm's California personal injury lawyers represent people who have been very seriously injured or lost a family member due to an accident, defective product or negligence throughout California. The law firm has won a wide variety of challenging personal injury and defective product cases, involving car accidents, on-the-job accidents, dog attacks and defective products made by Fortune 500 companies, insurance companies and governmental agencies. For more information, visit http://www.CaliforniaInjuryBlog.com. Get a complimentary copy of The Seven Fatal Mistakes That Can Wreck Your California Personal Injury Claim.
# # #