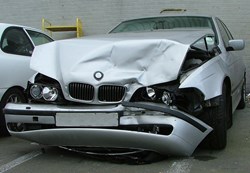 despite a fall in road traffic accidents of 11% between 2010 and 2011, personal injury claims have risen by 18%
(PRWEB UK) 6 July 2012
Figures released by The Actuarial Profession have shown that despite a fall in road traffic accidents of 11% between 2010 and 2011, personal injury claims have risen by 18%. Personal injury claims from traffic accidents alone are costing the insurance sector approximately £400 million per year.
Car insurance policy holders will need to brace themselves as this new trend is likely to have a negative impact on their insurance premiums as the additional cost is passed on. The figures that The Actuarial Profession has released show a significant year on year increase in personal injury claims between 2010 and 2011, with 2011 recording the highest number of claims to date, placing yet more pressure on UK motorists.
The Actuarial Profession report also identified a correlation between an increase in personal injury claims and the emergence of more claims management companies.
David Brown, the Chairman of the Institute, commented: "This continuing rise in personal injury claims seems, yet again, to coincide with the growth of claims management companies. Over the period 2010 - 2011, the number of claims management companies in England and Wales increased by 20%, most notably in known accident and claims "hotspots". And, where there is a notable increase in claims management company activity in an area, there is a corresponding increase in personal injury claims."
The reduction in traffic accidents has been mainly attributed to lower road use in general. The report contains data that shows a sharp reduction in road use in 2010 which bears a direct correlation to the increase in fuel prices at around the same time. Similarly, the sharp rise in personal injury claims in 2011 may be due to Government plans to restrict the amount of money that claims management companies can make from "no win, no fee'"cases in the future.
Andrew Goulborn, Commercial Director of Tiger.co.uk, commented: "This report has identified some interesting statistics with regards to the personal injury industry. There certainly appears to be a divide between accidents and personal injury claims and the ripple effect of this could have a negative effect on motor insurance prices. If the planned Government legislation is introduced then this could help, but in the meantime it's even more important to compare car insurance prices from a variety of insurers to make sure you get the best deal available. "
About http://www.tiger.co.uk:
Tiger.co.uk is a trading name of Call Connection Ltd. Tiger.co.uk is a UK based, independent car insurance comparison site, offering insurance quotes from over 150 motor insurance brands. Call Connection Ltd is authorised and regulated by the Financial Services Authority (number 308374).