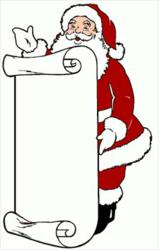 The GiftstoRemember.com company is one of few resources online that now provide original letters that are postmarked from North Pole, Alaska
San Francisco, California (PRWEB) December 08, 2012
Letters from Santa have been a tradition for over five decades in the U.S. While technology has increased and Santa has gone virtual, many parents are exploring the days of their youth for children. The PersonalLetterfromSanta.com website now offers a personal letter from Santa to children. The letters can be requested here from the Personal Letters from Santa company.
This completely customized letter includes a child's name and is mailed from the North Pole after it is hand written by Santa on quality paper stock.
Personalized letters from Santa Claus were first started in the early 1950s and many children had the chance to experience this thoughtful gift. The sense of joy and hope that surrounds the story of Santa is one thing that children can remember forever.
The PersonalLetterfromSanta.com company is one of few resources online that now provide original letters that are postmarked from North Pole, Alaska and sent to any U.S. destination.
The new packages that are available include different variations designed for children. Apart from the letter printed on beautiful stock paper, a "Nice List" certificate is sent with a child's name.
This new certificate details the hard work that a child has made throughout the season as a reward from Santa Claus. These frame-ready certificates are now printed on colored stock paper.
One of the differences with these original letters from Santa compared to other letter companies is the way the packages are prepared. Included with the "Nice List" certificate is an actual list that includes a child's name along with other nice girls and boys.
This complete package is placed into a colorful envelope and mailed to any U.S. destination. The Personal Letters from Santa company is offering this exclusive package for the 2012 holiday season.
The new customized letters to children from Santa now come with variations of the letter. Families that have more than one child automatically are eligible for a different variation of the printed letter. The customization with a child's name, name of a friend and other identifiable information is included in each letter variation. These letters are mailed up until January 1st to guarantee holiday delivery.
These Made in the USA packages provide an alternative gift to children that are likely consumed with technology and its many advancements. These new PersonalLetterfromSanta.com letter packages can now be ordered securely online and mailed in time for holiday delivery to any boy or girl in the U.S.
About Personal Letters from Santa
The Personal Letters from Santa website launched in 2012 to provide a one-stop shop of unique gifts for men, women and children online. A variety of special gifts for all occasions are offered through this online gift company. Orders can be placed from any country in the world and frequent discounts and free shipping incentives are offered to gift buyers. The Personal Letters from Santa company offers an alternative to websites that sell electronics or other gifts that are mass produced to help provide more traditional variety to men and women shopping online,.