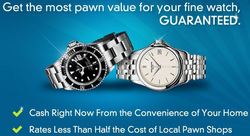 "Sunni's experience will help us be more prepared to handle the increasing call center traffic and expand the personal loans operation around the country."
Centennial, CO (PRWEB) May 11, 2010
Internet Pawn, Inc., the first online pawnbroker offering personal loans in the United States, today announced the hiring of Sunshyne Martinez as Manager of Call Center Operations.
Ms. Martinez brings her over 8 years of experience as a call center manager and trainer in the financial services and direct response industries. Most recently with DRTV stalwart The Video Professor, Ms. Martinez is responsible for expanding call center operations to 24x7x365 for both internal and for-hire efforts.
"Mrs. Martinez has the experience developing, growing, training and managing significant call center operations,"said Internet Pawn Founder and CEO Todd Hills, "Sunni's experience will help us be more prepared to handle the increasing call center traffic and expand our online pawn operation around the country."
Mrs. Martinez stated, "I am excited to be a part of revolutionizing the Pawn industry. I was so impressed with the Company's vision for the future and the positive reputation of Todd's traditional Jumping Jack Cash pawn shops that I jumped at the opportunity to bring this vision nationwide."
About Internet Pawn
Internet Pawn is an online pawnbroker, offering loans from the privacy, convenience and security of home. Internet Pawn loans money secured by the jewelry, fine watches and gold already owned by their clients. Internet Pawn are experts at advancing cash on watch brands like Rolex, Omega, Tag-Heuer Patek-Philippe as well as, diamonds, gold and almost any item of value.
Launched in 2009 by 25-year industry veterans most recently responsible for the Jumping Jack Cash chain of traditional pawn shops in Colorado and Utah, and recently backed by venture investors Access Venture Partners and Daylight Partners, Internet Pawn is the first Web-based pawn broker in the United States. As such, it is revolutionizing a 3,000-year-old industry by guaranteeing secure, confidential, asset-based loans with consumer-friendly rates and terms online. Unlike other online lenders, Internet Pawn offers loans based on the collateral of customers' personal valuables. The company offers cash quickly with no payments for six months. A member of the Better Business Bureau and National Pawnbrokers Association, Internet Pawn guarantees a premium value based on its experience and proprietary valuation technology, and all transactions are conducted from the privacy of the customer's home. For more information, go to http://www.internetpawn.com .
###