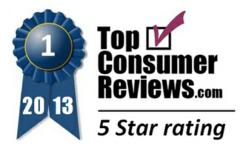 Overland Park, KS (PRWEB) February 12, 2013
TopConsumerReviews.com recently awarded its highest five-star rating to Lending Club, the leading platform for investing in and obtaining personal loans.
"We're honored to receive TopConsumerReviews.com's highest rating," said Scott Sanborn, Lending Club CMO, "and see it as a recognition of the value we have delivered to both borrowers and investors, as well as an affirmation of the profound and positive impact we are having on the consumer finance industry."
Traditionally, people looking to pay off high-interest credit card debt or fund home improvements, a wedding or another large expense have turned to banks or family members for personal loans. Today there are better options: Americans are increasingly using credit platforms like Lending Club, where high-credit-quality borrowers can often find lower interest rates than those at a local bank or on a credit card, and without the cost and hassles of traditional finance companies. Applying for a loan via Lending Club is a quick and easy process—borrowers with a FICO score of at least 660 can be pre-approved for a loan instantly, with no impact to their credit score, without visiting a bank branch. Lending Club enables dozens or even hundreds of people to seamlessly invest in each loan, resulting in lower costs for borrowers and solid returns for investors.
"Lending Club is a great option for eliminating existing, high-interest debt or financing a major purchase," explained Brian Dolezal of TopConsumerReviews.com, LLC. "They provide a fantastic customer experience, with a simple, transparent process that lets you apply for your loan and monitor the progress as lenders fund your request, all from the comfort of your living room. Lending Club has earned our highest rating."
To find out more about Lending Club and other personal loan companies, including reviews and comparison rankings, please visit the Personal Loans category of TopConsumerReviews.com at http://www.topconsumerreviews.com/personal-loans/.
About Lending Club
Lending Club utilizes technology and innovation to reduce the cost of traditional banking and offer borrowers better rates and investors better returns. Lending Club started operations in 2007 and has been recognized for its results and innovation by the Harvard Business Review and Dow Jones, was named one of Forbes' America's Most Promising Companies in 2011 and recognized as a 2012 World Economic Forum Technology Pioneer. Lending Club is based in San Francisco, California. Currently only residents of the following states may invest in Lending Club notes: CA, CO, CT, DE, FL, GA, HI, ID, IL, KY (accredited investors), LA, ME, MN, MO, MS, MT, NH, NV, NY, RI, SC, SD, UT, VA, WA, WI, WV, or WY.
About TopConsumerReviews.com
TopConsumerReviews.com is a leading provider of independent reviews and rankings of hundreds of consumer products and services. From credit repair reviews and the best home gyms, to top medical alert systems and the best payday loans, TopConsumerReviews.com delivers in-depth product evaluations in order to make your purchasing decision easier.