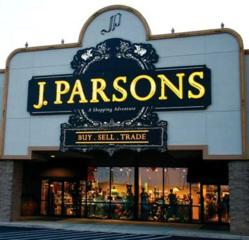 "We have Elvis' sunglasses, an electric chair, an armored van, an Olympic torch, over 1/2 million rare coins and currency, jewelry of every kind, high-end retail, wholesale pallets...no one has ever seen anything this big." says Kelly Aumann
Springfield, Illinois (PRWEB) February 05, 2013
THR & Associates, Inc. business assets are on the auction block in the largest personal property auction in Illinois history starting February 05, 2013.
US Bankruptcy Court has ordered Aumann Auctions, Inc. to sell all assets of THR & Associates, Inc.
On Sept. 10, 2012 Jeff Parsons, founder of Treasure Hunter Roadshow, THR & Associates, Inc., filed personal and corporate petitions for bankruptcy, case number 12-7202. Now, it's all up for auction! Aumann Auctions, Inc. has been chosen by the Bankruptcy Court to liquidate all of the assets housed in 7 huge locations, including both retail and warehouse sites, across Illinois – Springfield, Jacksonville, Champaign, and Bloomington.
Everything will be sold in 9 separate auctions and through the convenience of online-only bidding the public can set their own price in the largest personal property auction in Illinois history. Kurt Aumann of Aumann Auctions, Inc. says, "This entire online auction process is set up for the ease of the public, both for individuals and wholesalers. There is no way this kind of volume could be handled in a live auction setting."
The buildings and warehouses are full with literally millions and millions of items. Kelly Aumann says, "Although phrases like, 'opportunity of a lifetime' and 'something for everyone' are over-used in this industry, they are understatements in this case. Not only is the sheer volume hard enough to comprehend but add to that the variety from rare antiques through fabulous high-end retail to wholesale palletized inventory - on every level - no one has ever seen anything like this."
Just a few highlighted items from all 9 locations:
Elvis' Sunglasses & Famous Signatures - Including Einstein and Thomas Edison
Electric Chair from a NY State Prison, an Armored Van, Olympic Torch, Vintage Guitars
Huge Group of Rare Military Antiques: Civil War, WWI, WWII - through Desert Storm
Over ½ Million Rare Coins and Currency, a Super Rare Abraham Lincoln Campaign Button
100's of Sports Autographs & Sports Memorabilia – Even an 18yr old Mickey Mantle Farm League
Entire Stage with Lighting and 30ft Catwalk, Huge Gazebo with 3 Gorgeous Chandeliers,
Incredible Antiques of Every Kind: Paintings, Collectibles, Toys, Nazi, Japanese Swords, Daggers
10's of Thousands of Watches & Pocket Watches with Over 300 Highlighted Lots
Jewelry - You Name It: Fine, Antique, Vintage, Costume - New and Used - by the 10's of Thousands
130+ Taxidermy Mount Collection: Bear Skins, Moose, Buffalo - Elk to Badger & Everything In-Between Incredible Fixtures: A lighted, Professional Catwalk, 28 X 12 ft Gorgeous Gazebo, Multiple Chandeliers
Women's, Men's, Children's, & Infant Upscale Clothing, Shoes, Accessories & Purses
Home Décor, Drapery, Appliances, Lamps, Chandeliers, Gourmet Kitchen Items, Gift Items
Retail Fixtures: Displays, Shelving, Showcases, Office Equip., 1,000's of New & Used Tools,
Also Selling the Contents of 2 Warehouses – In Huge Wholesale Lots!
Kelly Aumann says, "We encourage people to get together with friends, relatives, club or church groups and bid on large lots of retail merchandise. Have an auction bidding party!"
The online-only bidding is open now and the first auction will close on February 22, 2013. Photos, item descriptions, terms of the auction, and bidding registration are available at http://www.aumannauctions.com.
Schedule of the online auction end times and addresses for pick-up:
February 22, 2013: J.Parsons, 924 N. Grand Ave., Springfield, IL
February 25, 2013: Springfield Buy-Sell-Trade, 3425 Freedom Dr., Springfield, IL
February 28, 2013: Jacksonville Buy-Sell-Trade, 324 E. Morton, Springfield, IL
March 3, 2013: Collectible Coin and Currency, 20114 IL Rt. 16, Nokomis, IL
March 7, 2013: JP Treasures, 1715 Bradford, Suite H-103, Bloomington/Normal, IL
March 11, 2013: Taylor Warehouse, 1700 Taylor, Springfield, IL
March 14, 2013: Champaign-Urbana Buy-Sell-Trade, 105 University Avenue, Urbana, IL
March 17, 2013: Rare Antiques, 3033 Clear Lake Ave. Springfield, IL
March 18, 2013: Clear Lake Warehouse, 3033 Clear Lake Ave., Springfield, IL
Aumann Auctions, Inc, a MarkNet Alliance member, is celebrating its 50th year in the auction business. The company credits its success largely to referrals and repeat business with satisfied clients. Based in central Illinois, Aumann Auctions works nationwide and provides clients with a local and national presence, cutting-edge technology, an unmatched base of proven bidders, and worldwide exposure through strategic marketing.
To learn more about this important liquidation, please visit http://www.aumannauctions.com, or contact Kelly Aumann at Kelly(at)aumannauctions(dot)com. The toll-free phone number is (888) 282-8648.
Aumann Auctions, Inc. * 20114 IL Rt. 16 * Nokomis, IL 62075