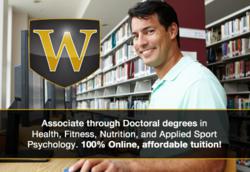 Online fitness training degrees from Wexford University offer real world application and accelerated learning
(PRWEB) May 10, 2013
Summer school doesn't have to take students away from outdoor time, family time or travel: Wexford University's online associate of arts degree in fitness training offers flexible and convenient scheduling for sessions throughout the year. Registration for the summer session is open now and classes begin on June 24. Students can learn more and register online at http://wexford.edu/degree-programs/associate-of-arts-degree-in-fitness-training/.
Wexford University's online associate of arts degree in fitness training prepares students for careers as a personal trainer, fitness coach, lifestyle consultant, fitness manager and other similar fields. Further, it can be used as a stepping-stone to a bachelor's, master's or doctoral degree in the growing fitness and wellness industry.
"You don't have to miss out on your favorite parts of summer when you study at Wexford University online," said Jack Bauerle, Chancellor of Wexford University. "Our associate's degree in fitness training offers the information you need to find a great career in the health and fitness industry today as well as the flexible scheduling you want for your summer lifestyle."
The associate of arts degree in fitness training imparts a fundamental knowledge of the human body and how it responds to the stress of exercise, basic nutrition and its importance to overall health and wellness, and an understanding of the psycho-social factors that affect people's ability to achieve their health and wellness goals. Online classes are taught by world-class instructors and offer affordable pricing and convenience.
Students interested in the summer session starting June 24 can apply now at http://wexford.edu/apply/. In addition, Wexford University also offers four other degree programs including:
Bachelor of science in Health and Fitness
Master of science in Nutrition and Exercise
Master of arts in Applied Sports Psychology
Doctorate of Applied Sports Psychology
About Wexford University
Wexford University is dedicated to providing world-class education through cutting-edge technology, offering direct application degree programs in an accelerated format with 100 percent online learning to save time and money. Programs include an associate of arts degree in Fitness Training, bachelor's degree in Health and Fitness, master's degree in Nutrition and Exercise as well as master's degree and doctorate degree in Applied Sport Psychology. Wexford University is the higher education division of NESTA (National Exercise & Sports Trainers Association). For more information, please visit http://wexford.edu/.