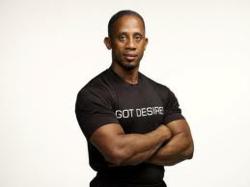 My experience as a natural bodybuilder helps me understand the struggles my clients have in changing eating habits, losing those stubborn unwanted pounds, and the patience it takes to put on quality muscle, explains Pippillion.
Houston, Tx (PRWEB) November 09, 2012
Paris Pippilion is the owner and lead trainer at http://www.personaltrainerhouston.net His love for healthy living began when he was a teenager and now more than 20 years later he has helped hundreds achieve their fitness goals.
Personal Trainer Houston
Their services include weight loss, in-home personal training, group exercise, pre-natal and post-natal training, rehabilitation, strength training, nutritional counseling and more.
PHYSIQUES BY PARIS EXCLUSIVE OFFER Novembers Special $19.00 Per Session a Retail Value of $49.00 each
New clients can receive a 60-minute training session plus a body assessment for free with the purchase of a three session training package.
Each package is customized for your budget and health goals. Simply call or visit Personal Trainer Houston to begin your journey to a healthier lifestyle. This offer expires December 31, 2012.
"My clients have different needs and it's important that I customize their workout plans to maximize results", says Pippillion. "I'm committed to creating a workout that is affordable and productive, yet fun and exciting. My ultimate goal is to help individuals improve their quality of life, feel better, and be happy."
WHAT PHYSIQUES BY PARIS CLIENTS ARE SAYING
Personal Trainer Houston
"Paris is a great motivator. I tried working out on my own and wasn't seeing the results. He's great at tailoring a workout plan for each individual and knows how to switch it up. I always look forward to my workouts with him." – Judy Walker of Houston, TX
My legs were particularly weak and needed strengthen in preparation for a Colorado mountain climb … Paris ensured my success to not only the peak of the mountain, but my peak performance as well." – Jay Steinfield, CEO of Blinds.com
"I am 54 years old and have learned so much about developing my core strength … even everyday activities around the house are easier to perform without straining or soreness. Best of all, my wife loves the way my upper body has developed!"– David Looney of Houston, TX.
"I first consulted Paris for assistance with rehabilitation following a back injury; his assistance resulted in restoration of full functional capacity. His kindness, consideration and sense of humor make him unique. I have recommended him to colleagues several times in the past." – Dirk Younker MD, Shelden Professor of Anesthesiology.
ABOUT THE TRAINER
Paris Pippillion has won numerous local, state and national body-building titles.
He holds certifications from the American Council on Exercise (ACE), Advance Human Performance, Exercise Rehabilitations Specialist, Special Population (Elderly & Diabetic Conditioning), and P-FIT Personal Training.