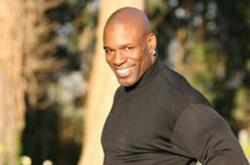 Such personal growth groomed me to seize a golden opportunity when it
presented itself
Corte Madera, CA (Vocus/PRWEB) March 31, 2011
Xavier Jarrell McClinton, known to the Marin personal training community as "X," had a long, hard road to climb to get to where he is today. Growing up in poverty and struggling in school, he found hope in athletic activities. It was overcoming adversity, X says, that motivated him to become a trainer, coach, and mentor. Now he uses lessons learned to reach out to kids through private training sessions, AAU basketball coaching for 5th grade girls, and conditioning training for sports teams.
"I have mentored kids of all ages and assisted them in overcoming their physical and emotional fears, and self-esteem issues over the course of many years," says X. "I help kids stand tall when they can only crawl, and walk when they think their only option is to run away."
He draws on experiences from his own childhood to relate to kids and give them hope. As a young child, X moved to California with his three older sisters after their mother left the family without a word. Growing up in poverty, the children attended financially-challenged, understaffed schools, where X leaned heavily on athletic abilities to compensate for his academic inadequacies.
"Such personal growth groomed me to seize a golden opportunity when it presented itself," said X. "The result has allowed me to give people of all advantages the ability to become physically fit."
His early childhood experiences inspire X to work with kids to develop the self-esteem they need to thrive. 10-year-old Alexis, the current Athlete of the Month at the Marin fitness center, started playing basketball for the first time in her life last year. At first she struggled with the work and feeling like she wasn't as good as the other girls. But training sessions and basketball camp with X have transformed her physically and mentally; her mom Lauren says that "over the course of the last six months Alexis has dramatically improved her basketball skills and overall physical condition and has become a driven, self-assured 10 year old."
In high school, X lettered in basketball and football, but had dreams of attending a top tier university crushed because of his poor academic performance and a subsequent knee injury. X never forgot what it feels like to be a teenager trying to find his way in the world and unsure of where to turn when life doesn't go according to plan. His empathy and supportive nature help X relate to teens nowadays.
The mother of a Marin teen with a learning disability who struggles socially and has had problems with self-esteem recently turned to X to help him gain physical strength. X uses empathy gained from his own struggles to train and also mentor the teen. In a heartfelt testimonial, the mother said that her son is now "much more social, engaged, respectful, energized, loving, content and just a happier kid (and of course in better shape). Xavier is probably the most positive influence my son has in his life."
"With the wind at your back and rolling like thunder, make it rain," said X. This prophetic perspective is one he applies to his work with every client as a personal trainer in Marin.
To start building mental and physical strength with X, or another physical fitness professional at Body By X, call (415) 945- 9778 or go to http://www.bodybyxonline.com, or visit their fitness center in Marin located at 5768 Paradise Drive, Suite J, Corte Madera, CA 94925.
About Body By X
Body By X Skill Development & Training Center is a state-of-the-art family oriented gym that specializes in physical fitness and personal training in Marin. Personal trainers provide personalized workouts on industry leading gym equipment at the Marin fitness center. Body By X serves the San Francisco Bay Area communities of Tiburon, Belvedere, Corte Madera, Larkspur, San Rafael, Novato, San Anselmo, Fairfax, Greenbrae, Sausalito and San Francisco.
###